At Plastpol 2015, Arburg will present a wide spectrum of plastic parts production, from the manufacture of one-off parts through to the mass production of medical technology items.
"The Polish economic trend is extremely stable and, accordingly, our assessment of our customers' willingness to invest is optimistic," said Dr Slawomir Sniady, Managing Director of the Arburg subsidiary in Poland. "There's a particular interest in increasing production efficiency as well as in the competitive production of plastic parts at minimum unit costs."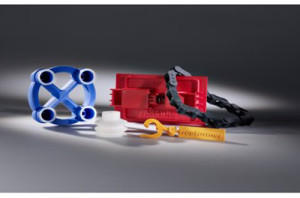 At the show, a Freeformer will combine a standard acrylonitrile butadiene styrene (ABS) material with a special support material to produce a key fob featuring a ball joint. The supporting structures are simply removed later in a water bath.
The European sales launch of Arburg's Freeformer began in April. "Our customers' interest in this innovative system for industrial additive manufacturing is huge," said Mr Sniady.
With the manufacture of syringe barrels featuring a thread, Arburg will demonstrate how disposable items can be produced in high quality and large volumes.
Using a mold from Tim Plastik, Turkey, a hybrid Allrounder 520 H with a clamping force of 1,500kN will produce eight 20ml syringe barrels from polypropylene (PP) in a cycle time of around 11s. The part weight is around 7g.
Sophisticated temperature control technology is used in order to meet the stringent part tolerance requirements, according to Arburg. Before the mold is opened, an unscrewing unit is used to perform so-called Luer Lock thread demolding.
Using a toy buggy as an example, Arburg will also demonstrate the automated and cost-effective manufacture of standard products. An Allrounder 420 C Golden Edition with a clamping force of 1,000kN will produce all the components in a single step using a 1+1+2-cavity family mold. The cycle time is around 30s.
After the injection molding process, a Multilift Select robotic system then removes the sprue as well as the four individual components (roof, chassis and two axles with wheels) and joins them together on the assembly table to produce the finished buggy.
The exhibited machine will feature the Arburg productivity package. This package includes the Arburg energy saving system (AES) with variable-speed pump drive and water-cooled drive motor.
Its advantages include a reduction in energy requirement by up to 20%, 5% shorter dry cycle times and reduced emissions, the company explained.
The Multilift Select is the entry-level model of the Arburg linear robotic systems. It features servo-electric drive axes and is fully integrated in the Selogica machine control system.
Plastpol 2015 will be held from May 26-29 in Kielce, Poland.
Website:   www.adsalecprj.com