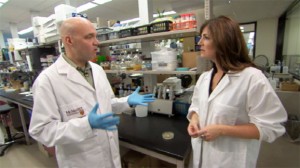 The United Kingdom's Chief Medical Officer has warned that there is a "catastrophic threat" of resistance to antibiotics. In a special report on the threat of drug-resistant infection, she called for the growing resistance of bacteria to antibiotics to be recognised alongside terrorism as a leading risk.
Symphony Environmental Technologies has recognised the need for greater protection against deadly bacteria, which is now becoming urgent if we can no longer rely on antibiotics to protect us. The company has therefore developed a range of anti-bacterial and anti-fungal formulations called "d2p" which can be put into plastic products during manufacturing and will help prevent the spread of infection.
"If we can no longer rely on antibiotics we have to deal with the bacteria before they get into our bodies", says Michael Laurier, Symphony's CEO. "d2p is urgently needed in food packaging, table-tops, kitchen utensils, WC seats, telephones and in other plastic products likely to transfer microbes, such as credit cards. In addition the world could be wasting millions in added health costs by not switching quickly to anti-microbial and anti-fungal plastic.
"Research by Guelph Laboratories in 2008 showed that "re-usable grocery bags can become an active microbial habitat and a breeding-ground for bacteria, yeast, mold, and coliforms. Similar research has been carried out with similar conclusions at the
University of Arizona, who found that consumers almost never wash re-usable bags. They should be made with d2p."
More Information: www.degradable.net