Amcor Rigid Plastics has won the WorldStar Award with its ultra-lightweight, hot-fill polyethylene terephthalate (PET) container designed exclusively for PepsiCo-Lipton's tea drink brand in Central America.
The 500ml package weighs only 22g and utilizes a 33mm finish that features a 50% reduction in material over a traditional 38mm finish. The sleek leaf body panels aid in the vacuum while providing visual movement and a comfortable gripping surface for the consumer, according to Amcor.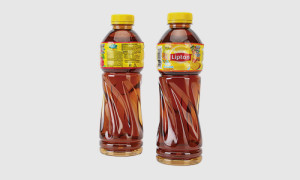 The new product was initially launched in El Salvador and has since been introduced in Mexico and other Central American regions.
"We are delighted to be recognized with a WorldStar 2016 Award for our longstanding commitment to innovation," said Carlos Londono, Design Manager for Amcor Rigid Plastics. "We're thrilled that we have developed a game-changing package that is highly functional, provides long-term production savings, and delivers major sustainability benefits."
Compared to a standard 500ml heat-set PET container weighing about 34 grams, the new bottle is approximately 30% lighter. Due to materials saving and reduction in energy needed for production, greenhouse gas emissions are cut by 26%, energy use is reduced by 23%, and water consumption is decreased by 24%.
The new container also results in a 26% reduction in the amount of waste that could potentially end up in a landfill, said Amcor.
The company applied its vacuum absorbing base (VAB) technology to the base and ERGO technology to the body. The VAB base is a light weighted diaphragm-like structure that aids in the cooling process by helping to absorb vacuum.
"The structure of the bottle had to be designed to provide both function and aesthetics when absorbing the vacuum," explained Jeff Klok, Senior Industrial Designer for Amcor Rigid Plastics. "Pushing the boundaries of conventional weights, we found that the light weight of the package was ultimately the biggest challenge."
Along with the ultra-lightweight container, Amcor and Bericap, in cooperation with PepsiCo, developed the industry's lightest 33mm tamper-evident finish/closure for hot fill, weighing in at just 3.7g. Amcor believes the unique finish will become a new standard for hot-fill bottles due to the 7.9g reduction in weight compared to the standard 38mm ALCOA.
This new finish led to the creation of a Bericap closure with a built-in seal that eliminates rubber liners or induction seal foils, thus reducing overall materials use. The Bericap closure is made of high density polyethylene (HDPE) instead of polypropylene (PP) like the previous caps.
The WorldStar Award is organized by the World Packaging Organization (WPO).
Website:                      www.adsalecprj.com