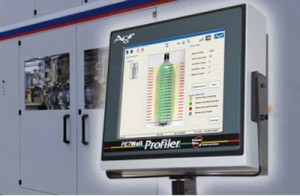 Agr's Process Pilot automated blowmolder management system interfaces with the blowmolder to provide precise material thickness distribution management and defect detection for PET bottles while offering hands-off blowmolder control.
With the trend towards ever lighter bottles, the Process Pilot offers bottle producers the ability to aggressively reduce bottle weights while providing the confidence that material is distributed appropriately. It is possible to produce consistent high quality bottles continuously regardless of operator skills, environmental changes and preform variations.
Some of the advantages of this product include: overall improved quality with reduced variation in top load and volume; production efficiencies that result from eliminating the need for section weights as well as reduced scrap and lower incidences of downtime in the blowing operation or filling line due to quality issues.
The system will be exhibited at the 2013 K show.
Source:  www.adsalecprj.com/Publicity/MarketNews/lang-eng/article-67007542/Article.aspx