Under the slogan "Freedom has to be experienced!", Arburg's exhibition stand at K 2013 will feature a brand new concept and design. Among the exhibits, the electric Allrounder 820 A, which completes the high-end electric Alldrive injection molding machine series, will make its world debut.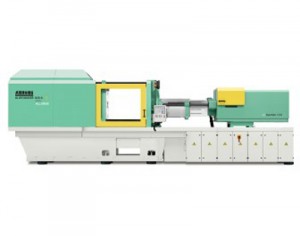 Both the 4,000kN toggle-type clamping unit and the size 2100 electric injection unit have been newly developed for this machine. The same applies to the high performance hybrid Hidrive range, for which this new toggle size will also be available in future. With the new clamping force and injection unit sizes for electric machines, the modularity of the Arburg range has been further enhanced.
For the automation segment, Arburg will jointly present a world innovation with its cooperation partner fpt Robotik in the form of an Agilus six axis robotic system from Kuka with integrated Selogica user interface.
The system is suspended from a linear axis arranged transversely to the machine. The combination of a six-axis robotic system with a linear axis permits more dynamic movements and faster entry into the mold. This results in shorter cycle times and higher productivity. A further benefit of this mobile solution is the greater working area available as the small robotic system can move on the axis and the floor space below can be used without restriction. The Agilus robotic system can thus perform a wide variety of molded part production tasks.
In terms of size and performance, it is designed for load weights between 6-10kg, ideal for plastics processing requirements, making it a cost-effective handling solution.
Source:  www.adsalecprj.com/Publicity/MarketNews/lang-eng/article-67007562/Article.aspx