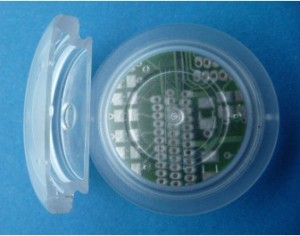 Austria-based machinery supplier Wittmann Battenfeld introduces the new In-Mold Internal Welding (IMIW) internal welding process, which makes it possible to insert-mold parts with a gas and waterproof protective layer. This process is of special interest for Radio Frequency Identification (RFID) technology. With its ability to transmit an extremely large volume of information within a minimum of time and without direct contact, RFID is not only increasingly used in the automotive sector, but is also becoming more and more common in medical applications, in transport, in the electrical industry and other branches of industry.
With the innovative IMIW process, it has now become possible for the first time to establish the connection directly between the contact surfaces, says Wittmann Battenfeld. In this case, the previously injection molded halves are joined together by injection molding the connection between the contact surfaces with the same plastic material from the inside. It is now possible to create a gas and waterproof connection between the two halves and thus ensure optimal protection for the sensitive electronic components.
The molded parts come out without any ridges or welding beads, so that downstream finishing can be dispensed with, that they are joined together by a gas and waterproof connection in the same production process, and that the joint is robust. This process is also suitable for other applications where two parts are to be connected with each other and the above-mentioned advantages are desirable. The IMIW process will be demonstrated to the public for the first time on an EcoPower 110 during Wittmann Battenfeld's Competence Days in Kottingbrunn, Austria on April 24-25.
Source: http://www.adsalecprj.com/Publicity/MarketNews/lang-eng/article-67003736/Article.aspx