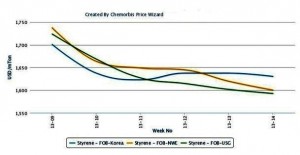 Moving into April, global styrene markets in Asia, Europe and the US ended the past week on a softening trend as per the pricing service of ChemOrbis. Spot values recorded losses in all three regions towards the end of the week on Thursday right before players entered the Easter Holiday on Friday with the largest drops being observed in Europe. The recent falls were mainly attributed to steadily falling benzene costs on a global scale since the beginning of March while lethargic demand and sufficient supplies also contributed to these recent decreases.
In Asia, spot styrene prices defied the ongoing supply constraints amidst several shutdowns in the region as the bearish benzene market pushed offers significantly down since early March. Spot benzene prices which softened $20/ton on a daily basis on Thursday, indicated a $10/ton loss on the week and a $120/ton decrease on a FOB South Korea basis from the beginning of March. Weighed down by lower benzene figures, spot styrene prices softened $15/ton over the week with the same terms to represent an approximate drop of $30/ton during March.
However, several styrene producers in the region reportedly shut their plants for scheduled or unplanned maintenances as the end of March neared. According to market sources, Sadaf shut their No.2 plant with 580,000 tons/year capacity in Al-Jubail, Saudi Arabia in the second half of March. Also, LG Chem reportedly shut their two styrene plants in South Korea in late March for scheduled turnarounds. The No. 1 and No.2 plants with capacities of 200,000 tons/year and 300,000 tons/year, respectively will resume operations by late April.
In Europe, tracking the trend in Asia, spot styrene prices declined $40/ton late in the last week of March with the cumulative decrease amount reaching nearly $100/ton on a FOB NWE basis during the past month. The main driver behind the fall was bearish benzene costs which dropped $25/ton week over week and $120/ton on CIF NWE basis since March started. Some market sources in the region also pointed to discouraging demand from downstream markets as another trigger pushing the styrene market down saying that supply was considered plentiful. Now, an increasing number of players expect to see a visible reduction in April monomer contracts.
In the US, lower benzene prices combined with market talk about comfortable styrene availability pushed spot styrene offers down by 0.8 cents/lb on FOB USG basis last week according to ChemOrbis. The latest values on Thursday before the Easter Holidays represented a larger decrease of 4.45 cents/lb ($98/ton) from early March. Similarly, benzene figures were down 5 cents/gal ($15/ton) on the week with the same terms while they plunged 36 cents/gal ($108/ton) when compared to the beginning of last month.