According to ChemOrbis, Asian styrene prices have been recording large decreases on the back of the relentless decreases seen on crude oil prices, which fell below the $60/bbl threshold on NYMEX last Thursday, and lower benzene costs.
Spot benzene prices were reported $190/ton lower at the end of last week while spot styrene prices wrapped up the week with $210/ton drops both on FOB South Korea and CFR China basis. Market levels indicate even larger decreases when compared to early November levels. Since early November, the spot benzene market shed $380/ton and the styrene market lost $545/ton.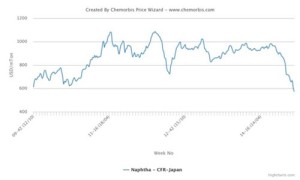 These decreases also brought down the downstream PS markets while weak buying interest reinforces the bearish trend. Most buyers, anticipating further decreases, limit their purchases to the minimums. Given the restricted purchase amounts, no supply related problems have been voiced so far.
On the sellers' side, producers who are not feeling content with the constant decreases, are choosing to restrict their production and shut down their plants for maintenance while some prefer to extend the duration of their shutdowns. Although such production cuts are not likely to find immediate effect on the market trend, they signal that stock levels could be insufficient once the market direction changes upward.
To track the most updated PS production news, please see PS Production News (For members only)
In production news, South Korean SK Global Chemical extended the shutdown duration at their 350,000 tons/year styrene unit. The company shut their Ulsan plant on July 28 due to poor market conditions. The unit remained offline as the company's margins remain weak. It was reported that the plant could remain shut in December, too. With the extension, the duration time would rise to 5 months. Taiwan Styrene Monomer also extended their 160,000 tons/year Lin Yuan styrene plant's shutdown duration. The plant was shut on technical issues on September 16. The company delayed the restart from November 2014 to the second quarter of 2015. Meanwhile, Japan Nippon Steel is also planning a shutdown at their 230,000 tons/year styrene plant in late January. In the downstream markets, Hong Kong Petrochemical is planning to shut down their 140,000 tons/year PS plant in the first quarter of 2015.
According to ChemOrbis, in Southeast Asia, Indonesian Styrindo Mono will shut their 100,000 tons/year No. 1 styrene unit located in Merak in December due to poor margins. The company plans to keep the plant shut until the production at their No. 2 line stabilizes. Elba Eastern declared a force majeure on styrene supplies from their 550,000 tons/year styrene unit located in Singapore last Thursday. Japan's Idemitsu's subsidiary Petrochemicals Malaysia is also to have a maintenance shutdown in early January at their 110,000 tons/year PS unit. Meanwhile, Thai SCG-Dow is to have a one month long turnaround at their 200,000 tons/year PS plant in the first quarter of 2015.