Two major South European PET producers have approached the Italian market with price hike requests, arguing that they are expecting to see a higher settlement on the November PX contract, as per the pricing service of ChemOrbis.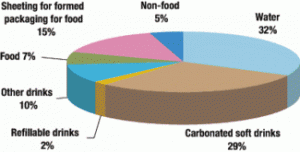 "We aim to obtain a €25/ton increase this month as we expect a higher settlement on the November PX contracts," a source at a South European producer commented. Another producer said, "We have to cover our higher feedstock costs, but it will be a challenging situation as demand is definitely absent." Regarding demand, all market players are on the same page that it is quite sluggish. This is natural at this time of the year, according to many players, and price hike attempts would end up being unworkable under these circumstances. As a matter of fact, bearish expectations were dominant in the PET market through most of the past month, when rollovers to slight decreases passed on done deals. In the last week of December, expectations about seeing further downward revision in prices for November were disrupted by firming upstream costs.
Given the weakness of the PET market, these initial hike attempts are not expected to find acceptance amongst PET buyers, some of whom still hope to obtain price decreases. Rollovers are the most likely outcome of November in the PET market, according to many players, as some buyers in the rest of Europe, including France and Germany, have already reported paying rollovers. A packaging manufacturer in Germany told ChemOrbis, "We concluded a PET deal for West European origin at stable prices.
We would not be able to accept any increases and if it were not for the possibly higher feedstock costs, the market would even post decreases."Another food packaging manufacturer in France purchased West European PET at a rollover from last month. "In October, our suppliers decreased their prices by €20/ton. Although the market is quite slow, feedstock costs are exerting an opposing pressure on the market," he commented. Some players also highlighted that other global markets are also not on firming trends.
The European PET market has also been exposed to some competitive import offers since October. Import offers out of South Korea have shown up at levels standing at least €70/ton below the local market levels. However, rumor has it that there has been a decrease in the availability of competitively priced import cargoes. A sales agent of a South Korean producer in Italy commented, "Our supplier is planning to suspend its offers as they are facing severely squeezed margins. According to the producer, there are two options: Either feedstock costs will decrease to relieve some margins or they will suspend their sales for a while."
Nevertheless, pressure from imports may remain in place throughout November. Even though Asian producers are widely complaining about operating their plants with negative margins, export offers from Asia may still provide competitive options for December deliveries. ChemOrbis Import Statistics for Italy also affirm that buyers tend to secure import cargoes in the October-November period since Italy saw its highest level of PET imports in December 2011 as a result of the arrival of cargoes secured in November.