PP prices have hit 8-month highs in Italy and 12-month highs in Turkey recently as mounting supply concerns have steadily pushed prices higher, particularly since the second half of April as per the pricing service of ChemOrbis. However, players in both countries have started to voice early expectations about a slowdown in the upward trend for the medium term. Indeed, the upward momentum has already slowed in China's PP market owing to the resistance built on the buyers' side.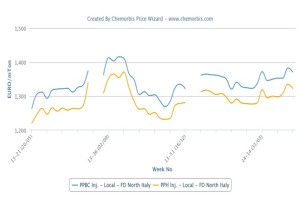 Italy's spot PP prices have been revised down particularly on the high ends of the ranges this week following last week's initial hike attempts of up to €40/ton. Availability restrictions persist across Europe, helping sellers retain their firm stance. Some monthly increases of €20-30/ton have already started to materialize.
However, some buyers are relying on the expectation that availability concerns are likely to ease once plants start resuming operations following maintenance shutdowns in May. "We have had to accept the €30/ton hike requests of our supplier but we remain cautious about our purchases as the current high levels are not suitable for building stocks. PP prices may hold steady in June," a buyer commented.
In the nearby Turkish market, very similar opinions are cast for the near term among players. The ongoing limitations on supply may continue to keep the outlook firm with sellers still reporting robust demand for prompt cargoes particularly for fibre. A cumulative gain of more than $50-60/ton has been seen in PP raffia and fibre prices for April and May PP business, according to ChemOrbis Price Index.
Nevertheless, buyers who have covered their positions for more than a month are now shying away from securing additional stocks as they widely feel that further hikes are not feasible. Some argue about being able to find their needs despite the tightness complaints while others are worried about a slump in their end product orders. Even sellers admit that PP prices may not have more room to go further up since import PP prices have already hit a year high. One Saudi producer has already expressed its sell idea at a rollover for June.
China's PP market, meanwhile, has already stepped back by $30/ton on average in the last two weeks after the gains recorded during April. A distributor based in Hangzhou stated, "We think that prices will not witness any further increases as buyers are showing resistance and it is getting harder to conclude deals."
According to ChemOrbis, in addition to the growing resistance on the buyers' side, the prospect of more supply has also contributed to the lost momentum of the firming trend. This is because players report sufficient supply levels inside China and some have expressed concern that supply may continue to loosen as some regional producers are set to return from maintenance shutdowns.