Spot naphtha prices have been steadily edging higher for the past three weeks in Asia and Europe as per the pricing service of ChemOrbis. On the contrary, spot ethylene prices in both regions have been retreating within the same time span owing to ample stocks, according to players.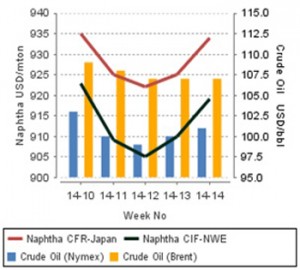 In Asia, spot ethylene prices have lost $85/ton on average since mid-March and they are currently pegged at $1410/ton CFR Far East Asia. Players report poor buying interest for spot ethylene as the downstream PE market has been struggling with oversupply. Even though there are some shutdowns at regional crackers, they are expected to resume operations, soon. "We expect supply levels to remain mostly unchanged as some other crackers are also preparing for maintenance shutdowns," commented a player.
Rather than supply, the steady firming in the upstream naphtha market is expected to support the ethylene market, according to a few traders. Spot naphtha prices gained almost $15/ton on CFR Japan basis in the past three weeks.
In Europe, the softening in the spot ethylene market for the past three weeks is relatively smaller when compared to Asia. Indeed, the downturn has been in place for European ethylene since the beginning of the year. Similar to Asia, the length of supply is blamed for the consistent downturn.
According to ChemOrbis, when looking at the upstream markets, spot naphtha gained $15/ton on average in the past three weeks. Players attributed the strength of the European naphtha market to better market conditions in Asia, where supply is reduced and demand remains firm. Otherwise, demand from European petrochemical sectors was not satisfying at all, they argued. Plus, European propane is reportedly firm, supporting the naphtha market.