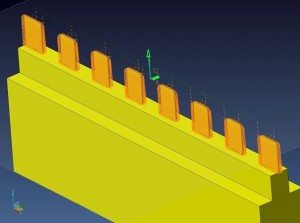 A manufacturer of high performance electronic connectors relies on the VISI suite of CAD/CAM solutions to produce multi-impression moulds containing hundreds of tiny, difficult to manufacture features.
Harwin Plc work with several VISI modules on their Gecko brand of micro miniature shock-proof connectors, which withstand extreme temperatures and are used extensively across a variety of industries including motorsport, energy, avionics, satellites and defence. Technical Communications Manager Ben Green says expensive electronic equipment has to work perfectly. "Whether it be on an aeroplane, on racing cars or in the driver's helmet, in a down-hole drilling system, or a satellite application, they all require reliable connectors to ensure they are never going to fail."
Many of Harwin's connectors are made from PPS and Valox thermoplastic polyester resin. They are produced in 420 Stavax steel moulds designed and manufactured with a VISI suite comprising VISI Mould, VISI Progress, VISI Machining, VISI Electrode and VISI PEPS-Wire.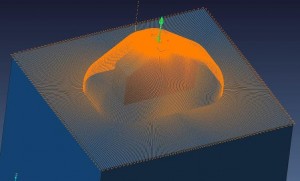 Tool Designer, Kev Hunt, says some of the components making up their mould tools have a 0.2mm wall thickness, which they manufacture with graphite electrodes. "There's no way we can get into such small areas with a conventional cutter, so we need to use electrodes and wire EDM technology. This produces excellent results because it's consistent and controlled, giving high quality finishes with no imperfections in the mould that would be transferred to the moulded products."
Once a new connector has been designed in ProEngineer, the data is loaded into VISI 20, making any minor adjustments necessary for tooling purposes. VISI Mould is used throughout the entire development process, providing a 'real-time' view of how component changes affect the tool design. "I use VISI Mould to apply shrinkage based on the polymer database, and the model gets scaled up to the correct size including shrinkage. After that, VISI's analysis capability allows me to create split lines of the actual moulded cavity, and I put those surfaces into a standard, default mould tool cassette and sub-divide it into various inserts, core pins, and other components making up the mould tool cavity."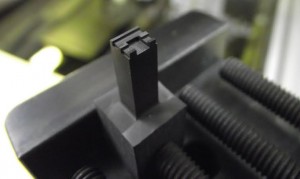 Harwin uses VISI Electrode to design the electrodes, which are then manufactured along with the other components for the mould or press tools. "It's ideal for the tiny details we need," explains Kev Hunt. Comprehensive holder design, simulation and collision checking ensures the electrode operates right first time.
He says they maximise the number of cavities in their mould tool cassette so that one cassette can mould an entire range. A recent Gecko electronic connector had four variations of the component within one mould tool, and being extremely intricate it required around 40 different electrodes. "This is where VISI Electrode and VISI PEPS-Wire proved to be absolutely vital. Previously, the toolmakers determined how to spark each of the areas, but now I do it all at the front end with VISI. I design the electrodes and they can be machined at the same time as everything else, which is much more efficient."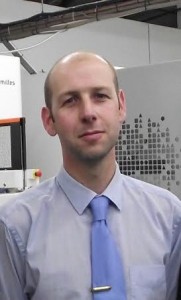 With each module playing a vital role for one particular part of the design and manufacturing cycle, he says the complete VISI suite has become an integral part of their manufacturing processes.
When 3D models of the electrode and the item to be machined are complete, the data is passed to the shopfloor for the appropriate toolmaker to create toolpath programs using VISI Machining, which drives a number of machines including two Agietron Hyperspark die-sinkers for the detailed graphite electrode work on the cavities, three wire EDMs and a Mikron 300 HSM graphite mill.
The VISI Viewer is used to extract the dimensions of the electrodes and where they aqre positioned. They are then programmed and loaded into the carousel on the AgieCharmilles electrode sparking machines, which only takes a few moments, even when several electrodes are required to make the cavity.
Parts for wire cutting are programmed directly from the CAD data by opening VISI PEPS-Wire and importing the file from the network server, creating the program offline and loading it into the Agie wire machine.
Milling operations on the mould and press tool components are programmed with VISI Machining 2D for simple electrodes that can be machined in one profile, and VISI Machining 3D for more elaborate electrodes with curves contours and more intricate shapes.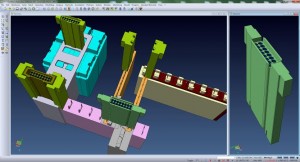 VISI Progress is used for all press tool design. Industry-specific functionality helps with intelligent decisions, reducing the potential for error and greatly improving manufacturing productivity. Harwin find the strip layout to be particularly powerful. "When designing a bend or fold, it applies that shape to every stage, ready for the next step," explains Kev Hunt.
And making full use of the automatic punch creation function gives what he describes as an impressive level of control on punching shapes. "I simply draw a basic shape of the punch on the strip layout and it extrudes that shape throughout all the die plates above and below, and adds the relevant clearance values and draft angles."
Kev Hunt concludes: "The VISI suite has improved productivity considerably, and makes it so much easier to change things when necessary. For example, when I've modelled electrodes the setting sheet is based on a particular datum corner, but the operator may require a different datum. He can simply call up the model with the electrode in place and measure from another area."
Confirming Harwin's philosophy of maximising the use of the latest technology, they have recently invested £500,000 in a Bruderer BSTA 280-75 stamping press with high speed servo feeder, removing the need for a separate development press, as new tools can be put through at the lowest stroke rate and at full press capacity.