WEST CONSHOHOCKEN, PA USA – The versatility of VICTREX® PEEK polymer is demonstrated by its ability to replace metal in connection clamps for x-ray tablets. The high-performance thermoplastic is wear resistant, and being a dielectric material, functions as an excellent insulator in electrical connectors and cable applications for medical components and instrumentation. High-precision, injection-molded PEEK parts make the medical clamps not only a low-cost option, compared to metals, but also a lighter, more secure and durable solution.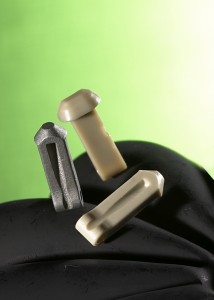 Clinics and hospitals depend on lightweight durable digital imaging equipment that can make every day repetitive tasks easier and more efficient. The reliability of x-ray tablets hinges on their electrical cable connections being secure and durable. Metals are not able to withstand the repetitive sliding and locking when used in connection clamps and can degrade the mating connector on the tablet.
"VICTREX PEEK has become the material of choice for our x-ray tablet connection clamps," explained Kirk Mikkelsen, Director of Engineering for AMETEK Engineered Medical Components. "PEEK was chosen to replace metal for this application due to its excellent resistance to abrasion and its overall toughness and strength.
When frequently used, medical equipment that cannot keep up with daily wear and deterioration are at risk for safety and reliability. Connections for cables and wires in medical devices demand a level of wear resistance that can withstand repeated use. They also require excellent chemical and hydrolysis resistance to withstand the processes involved in sterilization. It is important that design engineers specify materials that improve functionality and increase component lifetimes, while reducing the need for maintenance and lowering bill of materials (BOM) costs.
With its combination of high-performance properties and ease of processing into a variety of shapes and structures, VICTREX PEEK has been used in medical devices for many years in hospitals and laboratories around the world. The polymer is up to 70% lighter compared to metals. VICTREX PEEK facilitates the production of durable, safe and reliable products that have proven their worth over extended periods of continuous use.
VICTREX PEEK (polyetheretherketone) is a semi-crystalline thermoplastic with a melting temperature of 343°C (649°F). It has a molecular structure that provides the strength and stiffness, along with the wear, creep, chemical, and flame resistance that are required by today's demanding medical applications and for components and devices that were previously the domain of metals only. For more information, please visit www.victrex.com.