BIO & BEYOND is API's tagline for this year, their tenth time participating in the K2013 in Düsseldorf and this sums up the Mussolente company's strategy based on growth in advanced polymeric materials with low environmental impact features.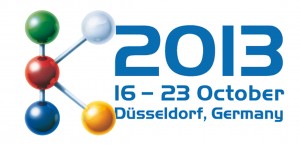 Ever since the very first thermoplastic compounds were developed, API has always stood above the rest, being able to supply top performance and easy to use materials, allowing the creation of highly innovative products.
The history of the company is full of significant examples of this. In the early '70s the first ski boots in TPU were produced thanks to the creation of Apilon 52. The early '80s saw API's technological refinement of soft / rigid co-moulding technology and their creation of multi-material diving fins. Co-moulding opened the way to a vast variety of applications for the new generation of TPEs (Megol, APIGO) in sectors such as automotive, household appliances, medical and construction.
Particular attention to health and environmental protection has led to the development of ever safer materials. Raw materials chosen with utmost care and without any risk components have allowed API to enter the most delicate fields of application that require eco-friendly materials. They develop items such as airbag covers, construction components and elements, accessories for electromechanics or agriculture, articles for the medical industry or dedicated to early childhood.
In the mid-2000s API entered the world of biopolymers with their invention of APINAT, the first biodegradable, soft biopolymer which is fully recyclable and transformable using all the traditional thermoplastic technologies. The recent use of APINAT by PUMA in the sole of the first, fully biodegradable shoe this sports brand has presented caused quite a sensation. The Basket Shoe features in the "Bring Me Back" project to raise awareness of environmental sustainability and the use of environmentally friendly and recyclable materials.
At the K2013, in addition to the APINAT biodegradable biopolymers, API presents the evolution of its range of TPE and TPU compounds, now also from renewable resources (Low Carbon Footprint). In order to strengthen their competitive edge and position even further, and to promote future growth, API is present at K 2013 with a new organisation. Three Business Units dedicated to different market sectors (Footwear and Sporting Goods, Automotive and Technical Products, Packaging and Medical) are the result of a process of radical organisational change that allows a greater focus on the applications of the market rather than on product alone.
Our employees' high level of motivation combined with greater autonomy and operational decision- making, has led the company to an increasingly intensive specialisation in the key markets, and customers now benefit from even greater efficiency and speed of response.