WEST CONSHOHOCKEN, PA USA– Victrex Polymer Solutions will be exhibiting at the annual Offshore Europe Conference in Aberdeen, Scotland from September 3-6th this year. Engineers, operators and industry professionals can meet with Victrex personnel at Booth 6A18 in the Deepwater Zone to gain further insight on how the benefits of VICTREX® PEEK have enabled innovative oil and gas solutions providers to access hard‐to‐reach reserves in a timely, cost‐effective and reliable manner.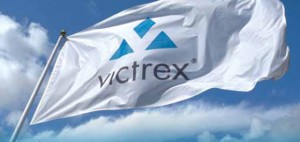 A myriad of VICTREX PEEK products and applications will be represented at the booth, highlighting the company's dedicated investment in oil and gas product development and application support. One example of the Victrex commitment to the oil and gas industry is the investment in NORSOK standards testing of VICTREX PEEK 450G. It has been tested and found to comply with NORSOK Standard M-710 Rev.2, October 2011, and in particular, aging in a multiphase sour fluid.
Normally used as a component test where operating temperatures are specified, the method was applied to VICTREX PEEK at temperatures between 175°C (347°F) and 210°C (410°F) for over 800 hours. Further testing in higher volume fractions of hydrogen sulfide gas has confirmed the outstanding resistance of VICTREX PEEK to chemical aging in sour environments.
Victrex's support of various applications including sealing systems made with VICTREX PEEK 450G and VICTREX PEEK-based compounds, as well as high strength PEEK-based composite variations will be on display. Also featured, Magma Global Limited's unique carbon polymer m-pipe* made with VICTREX PEEK. This is a high strength, lightweight, corrosion and fatigue resistant solution for deepwater, sour service and high pressure high temperature (HPHT) riser and subsea applications.
Victrex APTIV® films will also be highlighted at the show. APTIV films provide all of the outstanding properties of VICTREX PEEK polymers in a thin film format. It's versatility and high performance satisfy the increasing demands for high temperature, lightweight, durable, and electrical insulation. The flexible thin films are used in a variety of downhole wire wrapping and slot liner applications to protect the sensitive electronics from corrosive environments.
VICTREX PEEK polymer is also extruded directly onto wire for robust electrical insulation in down-hole motors that require excellent thermal, chemical and electrical integrity for extended operating lifetimes.Considering that an average of $1 million dollars per day can be lost to equipment failures and downtime on an offshore rig, the 30 years of trusted and proven experience of VICTREX PEEK polymers, combined with material and application design assistance, can help improve the reliability of operations and lower risk.
For more information, please visit the Victrex website at www.victrex.com.