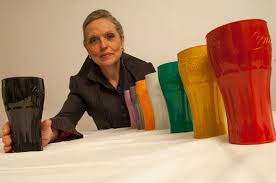 LONDON : Following four years of intensive research works and millions of pounds of investment, the Leicester-based he Perth-based plastics injection moulder and manufacturer Invicta Group has developed food-safe products like cups and plates made from 100 % recycled plastic bottles, lids and milk cartons.
Invicta, the Leicestershire-based company that invented fake pearls and plastic ruler, announced today that it had successfully created the first rigid, food-safe product from 100 per cent recycled plastic bottles (PET), lids and milk cartons (HDPE). The process can sizably reduce carbon footprints. Until now all manufactured products have been using mix of "virgin polymers" with recycled polymers, with a split of 95% virgin and the remaining 5% recycled.
According to the chief executive of the fir, Lady Onslow, this is the first time ever in the recycling history that a product is being manufactured from 100% recycled plastic materials. Soft drinks major Coca-Cola is among the first companies to test the new product. Other big players such as Unilever, Greenpac, Asda and Reckitt Benckiser have also expressed interest in the new product. The company has announced its willingness to associate itself with smaller companies as well.
 Invicta is looking forward to expand the activity by introducing various types of products in varied colors and specifications.
Source:
http://www.scrapmonster.com/news/uk-firm-comes-out-with-food-safe-products-derived-from-100-recycled-plastic/1/8382