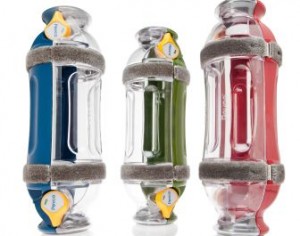 Looking for both a highly durable material to withstand heavy use and a reliable material to transport patient-critical items, Pevco chose to Eastman Chemical Company's Tritan copolyester for its Pevco TEC-6, a pneumatic tube carrier.
"A busy hospital sends more than 5,000 items per day through its pneumatic tube system (PTS)," said Steve Dahl, Director of Product Development and Marketing, Pevco. "Carriers see a lot of use, so they need to be not only durable but also lightweight and easy to use. The Pevco TEC-6 is a significant improvement over carriers currently on the market, as it's more durable and ergonomic and easier to track." Hospitals use a PTS instead of people to deliver small materials such as pharmaceuticals, lab specimens and blood products 24 hours non-stop every year.
According to Eastman, the crystal-clear clarity of Tritan allows hospital staff to see the inside of the carriers before they open them, providing improved safety. The material offers the durability needed for the constant handling and transporting of drugs and specimens. Additionally, Tritan gives the device body a slightly pliable, easily gripped surface that enhances its ergonomics, making it easier to use for hospital staff, no matter the amount of training received.
"Pevco understands the extreme importance of using a durable, clear and chemical-resistant material for its pneumatic tube carrier to maintain the integrity of patient-critical materials during transport and intense handling from hospital workers," said Gopal Saraiya, Global Segment Leader, Medical Devices, Eastman. "Eastman Tritan copolyester is an ideal material that provides the solutions to those needs."
Pevco introduced the TEC-6, which stands for trackable ergonomic carrier with a 6″ diameter, in May. The device is available in black/clear, red/clear, blue/clear and green/clear. Hospitals use colors to distinguish a carrier's contents and to identify its home department.
Source : http://www.adsalecprj.com/Publicity/MarketNews/lang-eng/article-128322/Article.aspx