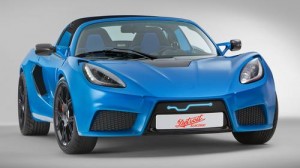 An electric car company with a rich history is rolling out a racy new EV that will be its first in 74 years. Detroit Electric, which shipped its last electric car in 1939, will relaunch sales in August with an EV that accelerates from 0 to 62mph in 3.7 seconds and hits a top speed of 155mph. Company representatives say the $135,000 vehicle will be targeted at buyers who want performance first and electric technology second.
"It's not just an electric car," Alex Michaelides, a Detroit Electric spokesman, told us. "It's a sports car that happens to be electric." The new product, which the company is calling "the world's fastest pure-electric production car," is clearly aimed at driving enthusiasts. Unlike most EVs, which typically use a single-speed transmission, the SP:01 drives its rear wheels through a four-speed manual transmission. Drivers don't need to use a clutch pedal to launch or stop the car — only to change gears as the vehicle accelerates.
"It's really just there to give drivers the option that they normally don't have with an electric vehicle," Michaelides said. The car goes up to about 30mph in first gear and 60mph in second.
The two-seat SP:01 has been compared to the Tesla Roadster, but Detroit Electric officials say their car's execution is different, and its batteries are smaller. The SP:01 employs two separate air-cooled battery packs — one behind the passenger cabin and another above the AC synchronous electric motor in the rear. Together, the two packs offer 37kWh of energy, about one-third less than Tesla's Roadster. As such, the SP:01 recharges in approximately 4.3 hours at 240V and 32A.
Despite the battery size, the new vehicle will offer an all-electric range of about 180 miles. That's partly a result of the liberal use of carbon fiber composites for in car's body. The vehicle's curb weight is just 2,400 pounds.
The car's introduction marks a revival of the Detroit Electric name. The company, which built and sold electric cars from 1906 to 1939, sold 1,000 to 2,000 cars per year during its heyday in the 1910s. Notable customers included Thomas Edison, John D. Rockerfeller Jr., and Clara Ford (the wife of Henry Ford). However, the company stopped producing electric cars in 1929, and it sold its last vehicle in 1939.
The Detroit Electric brand was revived in 2008 by Albert Lam, former CEO of the Lotus Engineering Group, with the idea of building an electric car with superior handling and performance characteristics. The revived company is headquartered in Detroit's Fisher Building. Detroit Electric plans to build just 999 units of the SP:01, with the idea of starting sales in August. A second limited-run sports car will follow in 2014.
Source: http://www.designnews.com/author.asp?section_id=1366&doc_id=261927&itc=dn_analysis_element&