At the 26th in Hamburg, Germany, igus GmbH presented a comprehensive range of plastics products for the shipbuilding industry: light and stable energy chains, Germanischer Lloyd-certified cables, and corrosion-resistant sliding, spherical, and slewing ring bearings for moving applications.
The company's range of motion plastics and tribo-polymers are maintenance-free and lubrication-free, seawater, UV, chemical, and corrosion resistant as well as reliable and robust. In comparison to traditional raw material like steel, they offer a lower weight and lower price, said igus.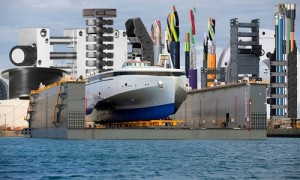 One of its highlights is its e-chan E4.350, said to be the largest plastic e-chain in the world.
On the ship "Seven Waves", the placement arm of the "Pipe-Lay-Tower" is performed by the output of the pipeline's severe services. In the application, the additional load lifts from 120kg/m. Generally the additional load of the E4.350 is covered from 600kg/m and is therefore significantly lighter than steel.
According to igus, workboats with deep-sea cranes are already successfully equipped with it. Likewise the space-saving installations of the multi-rotary modules are tested.
In the North Sea, on the "Innovation", an installation ship is arranged for wind farms, a two-tier rotary module for the rotation angle from a maximum of 900°. Through the special two-tier construction, circular movements with extreme angles are possible, added igus.
The 26th SMM, an international maritime trade fair, was held from September 9-12 in Hamburg, Germany.
More Information…
www.adsalecprj.com