Horgen, Switzerland — March 17, 2015 — Trinseo (NYSE: TSE), the global materials company and manufacturer of plastic, latex and rubber, is set to participate in the 2015 International VDI Conference "Plastics in Automotive Engineering." The VDI Conference serves as an excellent opportunity for Trinseo Automotive, previously known as Styron, to showcase its top-notch engineering capabilities and commercial successes with key global automotive players throughout the industry.
This year Trinseo Automotive will highlight the launch of the ENLITE™ line of structural polymers targeted at semi-structural applications, and a new commitment to innovative solutions in lightweight technologies for external and internal automotive parts.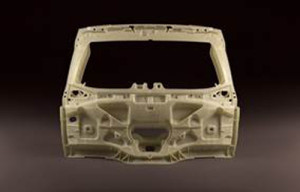 "Trinseo's team at its Application Engineering and Design Centre collaborates closely with our customers from the design stage onwards on current and future challenges in the automotive industry by offering a complete range of resins for lightweight technologies," said Anis Tebib, Marketing Manager for Trinseo Automotive. "Our fully integrated team ensures a regular cycle of innovation, bringing a multi-dimensional, dynamic approach to ensure part optimization. ENLITE™ Structural Polymers are the result of a clear focus in research and development on structural polymers for semi-structural applications in cars."
Specifically, Trinseo Automotive will focus on two lines for semi-structural applications, ENLITE™ Long Glass Fiber Polypropylene (LGF-PP) and ENLITE™ Glass Fiber (GF) Alloys. These are the first of many glass fiber products from Trinseo, providing automotive manufacturers with a broad range of solutions for the challenges they face.
ENLITE™ Structural Polymers use technologies that can replace existing materials such as steel and aluminum with lighter, globally available, cost-efficient solutions. Trinseo Automotive is exploring further solutions to offer automotive manufacturers a broad range of ENLITE™ products and global semi-structural solutions in the near future and for years to come.
> ENLITE™ LGF-PP provides a lightweight alternative to help customers meet market regulations regarding vehicle weight. With a 60% glass concentrate system, which is diluted with neat polypropylene, customers have the flexibility to achieve the direct proportion of glass they need.
> One example featured at VDI is the development of the lift-gate and front-end module of the new Renault Espace, which was designed with LGF-PP polymers from Trinseo. This innovation is part of a long-term collaboration between Renault and Trinseo Automotive, which began with a real serial life solution in the Renault Clio.
>Like ENLITE™ LGF-PP, ENLITE™ GF-Alloys offer lightweight optimization and customer flexibility. This product provides a bridge between the glass-filled polypropylene solutions of today and the enhanced carbon fiber solutions of the future. ENLITE™ GF-Alloys tackle specific areas in which process constraints are difficult to overcome. For example, when the design of the part necessitates thick walls to meet stiffness requirements, or the elimination of steel reinforcements, GF-Alloys provide an optimal solution. The first product designed in the GF-Alloys range is the GF-ABS alloy, which is a glass concentrate diluted with ABS.
With the ENLITE™ family of structural polymers, Trinseo is providing glass fibre solutions for today and tomorrow.
For More Information:
Marjolein Groeneweg
Trinseo Automotive
+49 6196 969 3124
mgroeneweg@trinseo.com