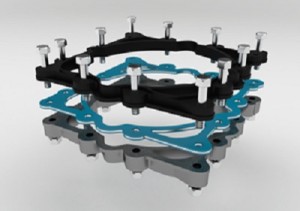 Rubore, a rubber-to-metal composite developed by the Sweden-based Trelleborg, will be highlighted at Engine Expo 2013, to be held in Stuttgart, Germany from June 4-6.
Focusing on automotive applications, Rubore technology is a production process used to create a three to five layer rubber-to-metal sandwich by applying a bonding agent to metal carriers and then vulcanizing rubber to the coated metal. A range of Rubore seals have been developed that includes five products for a variety of applications.
Head of Sales Engineering for the European Automotive Hub for Trelleborg Sealing Solutions, Axel Weimann says, "The real benefits of our patented Rubore composite technology are apparent when you consider the total cost of production. Working with us, components can be designed or redesigned to integrate Rubore products. This can lead to significant total cost savings when you consider reduction of handling, the ability to automate assembly and less logistics."
"Another big saving is given in many applications where due to compensation of roughness, the need for surface finishing can be alleviated. In addition, minimizing component weight not only reduces material costs, but also contributes to the automotive designers' objective to lower vehicle weight." He adds.
Source: http://www.adsalecprj.com/Publicity/MarketNews/lang-eng/article-67004395/Article.aspx