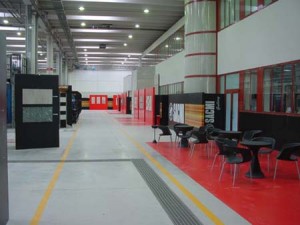 Sacmi's integrated production range for the beverage industry to play a pivotal role at the Nuremberg-held Brau Beviale fair. From ultra-efficient, high-performance solutions for making raw materials into bottles to outstanding innovation on the closures front
Sacmi is warming up for Brau Beviale in Nuremberg, Europe's biggest beverage industry fair, to be held this coming 13th – 15th November. Once again, visitors will be focussing their attention on Sacmi's integrated range of solutions for the industry: from filling to labelling, from preform production to stretch-blow forming and vision systems, Sacmi will be showcasing turnkey solutions that cover everything from the raw material to the bottle – solutions that offer outstanding performance and excellent energy efficiency.
These complete plant engineering solutions will the star attractions at Sacmi's, 144 m2 stand (hall 5, stand 341). In a fair like Brau Beviale, which blends the best of European tradition and technological innovation, Sacmi stands out for its unique capacity to provide cutting-edge technological solutions by efficiently integrating the different stages of the production process. A great opportunity, then, to discover new systems for the injection-type production of PET preforms, thanks to the innovative IPS press: this latest Sacmi-developed system is characterised by flexibility and rapidity of size changeovers, ergonomic solutions, energy savings, reduced overall dimensions and, lastly, can count on a worldwide network of sales and after-sales services.
The stand will also be dedicating plenty of space to the machines in the rotary SBF (stretch-blow forming) range, which have from 6 to 24 stretch-blowing stations. Located at the very apex of their category, these ensure output levels of over 64,000 bottles per hour in the standard half-litre format. Advantages on this line include the 1B=2b system, that is, the possibility of installing, on every machine in the range, a one-cavity mould for large bottles (up to 3 litres) or a 2-cavity mould for small bottles (up to 0.6 litres), thus ensuring a simple, fast switch from one format to another. Hourly output may therefore be as high as 2700 small bottles per station, thus making full use of the output capacity and potential of both the machine and any downstream filling line.
Moreover, this new range of stretch-blow formers integrates perfectly with the latest offerings from Sacmi Filling, another key Sacmi beverage player that provides a complete range of mechanical and electronic fillers capable of satisfying even the most sophisticated production requirements, from water to carbonated soft drinks, from cold filling to hot filling, from glass to PET, all with ultra-clean systems that ensure perfect product integrity.
Completing the ever-more comprehensive, fully integrated range are some great innovations from Sacmi Verona, which, thanks to innovative modular labellers featuring MOD technology, provide a top-notch response to the need for production lines that use several labelling, self-adhesive, hot glue or hot melt technologies. Lastly, Sacmi-developed "roll fed" technology allows the application of heat shrink labels directly from the film reel.
Sacmi will also be making the most of Brau Beviale to illustrate the latest developments in its CCM (continuous compression moulding) series; these ultra-performance compression presses, with output rates of up to 2,000 caps per minute, feature extremely short cycles (1.6 sec) and very low energy consumption. Not to be forgotten, of course, is that most traditional of products, the crown cap, to which Sacmi gives added value with its CCD series: this embosses the caps (i.e. giving bas-relief decoration/logo), making them highly attractive from a marketing standpoint while helping to prevent counterfeiting.