FLORENCE, Ky., September 16, 2013 – TOPAS Advanced Polymers will showcase its broad line of cyclic olefin copolymers (COCs) at K 2013, the 19th International Trade Fair for Plastics and Rubber Worldwide, which runs Oct. 16-23, in Düsseldorf, Germany. The company will discuss its latest materials and newest applications in Booth 7A05, which will be shared with its parent company, Polyplastics (Tokyo).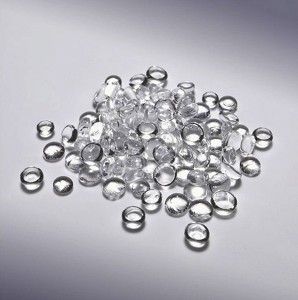 TOPAS' unique manufacturing technologies are enabling the development of new COC grades with a range of useful performance capabilities. These include elastomeric materials, advanced compounds, and resins with HDT nearing 200°C. "We continue to focus our R&D efforts on new solutions that enable our customers to create next-generation products," said Timothy Kneale, president of TOPAS Advanced Polymers.
Kneale noted that TOPAS resins are finding increased use in optics and electronics. The superior clarity and heat resistance of COC is driving use in touch screen and light distribution components of modern mobile devices, while its fluoropolymer-like electrical properties are perfect for complex, easy-to-mold antennas in the same devices.
Most recently, TOPAS is focused on the development of elastomers which deliver high barrier and purity. Key application areas and markets include healthcare and packaging, where other elastomers often fail to deliver the product protection expected in these markets.
The latest development for the packaging market is a new film extrusion grade of COC which is filling an important market need by delivering a unique combination of greater heat stability and robust extrusion performance. TOPAS® 7010F-600 is the company's latest film extrusion resin, featuring an HDT of 100°C for multilayer food packaging that withstands hot fill conditions.
The TOPAS COC family consists of amorphous, transparent copolymers based on cyclic and linear olefins. These innovative materials exhibit a unique combination of properties that can be customized by varying the chemical structure of the copolymer. TOPAS COC provides high transparency, outstanding moisture barrier, high rigidity and strength, excellent biocompatibility, and good electrical insulation properties. This strong performance range has resulted in many breakthrough applications in medical devices, diagnostics, food and pharmaceutical packaging, optics, and electronics.