Tomra Sorting Recyclcing has unveiled its AUTOSORT FLAKE with triple-sorting capability for plastics recycling .
AUTOSORT FLAKE provides analysis and sorting of waste-stream flakes by color and material at the same time while detecting metal.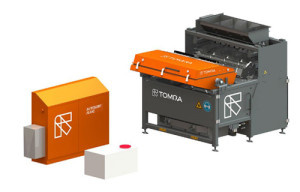 TOMRA Sorting's Product Manager Recycling, Valerio Sama, said, "Compared to our first generation flake sorter introduced in 2010, the new generation is able to do the job of two separate units and with a much higher degree of precision reducing the loss of good material."
As with its AUTOSORT stablemate, Tomra Sorting's AUTOSORT FLAKE deploys TOMRA's patented FLYING BEAM technology combined with the new developed FOURLINE 2mm optic module, which is reportedly the highest available NIR resolution on the market of sensor based sorting equipment.
Depending on the needs and demand, it is also possible to combine different TOMRA sensor-based sorting equipment at various steps of the process to achieve better results, according to him.
David Bourge, Plant Manager of SUEZ, Regene Atlantique, talked of his experience, "By combining AUTOSORT (bottles sorter) with AUTOSORT FLAKE (flake sorter), we've increased our high quality product yield by 200%, resulting in considerably higher revenue – almost immediately through the central control computer (CCC) we are able to monitor, control, and greatly improve our production on a real-time basis. At every stage, the investment decision has resulted in quick payback!"
Website:                          www.adsalecprj.com