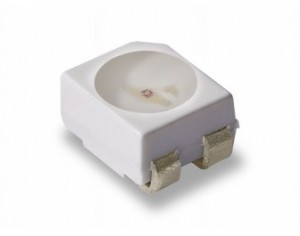 Ticona, the engineering polymers business of Celanese Corporation, has developed a new generation of Thermx polycyclohexylene-dimethylene terephthalates (PCT) for light-emitting diode (LED) applications.
"Developers at Ticona have developed two high performance super-white grades of Thermx PCT, meeting the challenging requirements of LED reflectors, especially for high brightness, medium-power LEDs," said Ruth Castillo, Thermx PCT and Vectra/Zenite LCP global business director, Ticona. "Thermx PCT provides superior color and reflectance stability under heat and light compared to commonly use high temperature polyamides."Thermx LED 0201 and Thermx LED 0201S are fiber filled, super-white PCT compounds.
According to Ticona, they withstand the demanding LED requirements for reflector resins with regard to heat and light stability: high initial reflectance; high reflectance stability under heat and light; good silicone adhesion; good processability; strong mechanical properties; surface mount technology reflow capability; and low moisture absorption.In addition, Thermx PCT provides added heat resistance, making it particularly well suited for demanding automotive and electrical/electronics applications. This high temperature polyester offers lead-free solderable – short-term heat resistance up to 260°C and high continuous operating temperature.
As said, Thermx LED 0201 is developed for cost-effective LED lighting while Thermx LED 0201S is for more demanding applications such as flat panel screens. "These super-white Thermx PCT LED grades provide customers with much better reflectance stability than PA9T and PA6T nylons at high temperature," Mr Castillo said. "Now, they can mold reflectors with excellent surface characteristics that maintain UV and color stability, providing superior long-term performance."
Source: http://www.adsalecprj.com/Publicity/MarketNews/lang-eng/article-67002752/Article.aspx