Five international exhibitions – PLAST, IPACK-IMA, MEAT-TECH, PRINT4ALL and INTRALOGISTICA ITALIA – outstanding showcases for machinery, technology and material production for the manufacturing industry, join together in one big event that will cover the entire Fairgrounds of FIERA MILANO in Rho, from Tuesday May 29 to Friday June 1st, 2018.
The decision to join such relevant initiative, named "THE INNOVATION ALLIANCE", comes few months after PLAST 2015, when it was announced that PLAST would advance in 2017. The sector received positively such announcement (even with few remarks, particularly from some overseas exhibitor).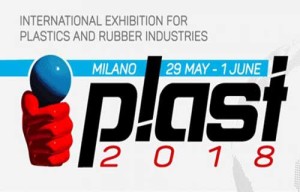 However, after such move was announced, the relevant change into IPACK-IMA ownership took place, passing from previous organizer to the new one, joined by FIERA MILANO and UCIMA (the Association of packaging machinery manufacturers). Thanks to the excellent relationships between PLAST organizer and the new organizers of IPACK-IMA, it was therefore found the new schedule, taking into account respective international trade fair calendars: Tuesday May 29 / Friday June 1st, 2018 (four days)
Therefore, PLAST and IPACK-IMA are coming back together (as in 2006 and 2009), offering visitors and exhibitors access through one entrance badge only, covering their previous Halls respectively, with the same mantling and dismantling periods. Such big international showcase is integrated by PRINT4ALL (including, among others, CONVERFLEX heritage) and INTRALOGISTICA ITALIA (in-house logistics), thus giving life to a unique trade fair in its kind, synergic in several aspects and with a highly amplified international resounding board.
This is the big news announced today, Wednesday February 10, 2016, during the press conference at MICO – Fiera Milano congress centre.
Alessandro Grassi, President of ASSOCOMAPLAST and of PROMAPLAST srl, PLAST organizing company, quoted the news as follows: "First of all, thanks to the reschedule at the end of May 2018, the overlapping with NPE is avoided, that was one of our main reasons for advancing in 2017.
Furthermore, beside the mere issue of calendar, I hold the aggregation of these exhibitions absolutely strategic, a chance not to miss: the industries of packaging, converting and printing are well-integrated and synergic in many respects to ours. Also Intralogistica, with in-house handling, figures out as an ideal integration of the supply chain.
Visitors in 2018 will have the chance to find on site all technologies needed. A unique chance that will attract a number of Italian visitors, and more than all from abroad, much larger than the records set by each single exhibition in past editions.
Finally, I believe that in actual times it is important to send a big message: through the synergies between Trade Associations and Exhibition Organizers, new aggregations with strong impact are possible, in the interest of all companies.
Unity is strength: companies have to support and believe in this project, as we did."