K 2013 gives W&H the perfect opportunity to present not only extrusion equipment, but also its entire range of machinery for the production and converting of flexible packaging at the show in Düsseldorf and at its simultaneous EXPO at the company's headquarters in Lengerich, just 1 ½ hrs by car from Düsseldorf. The main attraction will undoubtedly be the unveiling of a new extrusion line, currently referred to by the code name "E-24".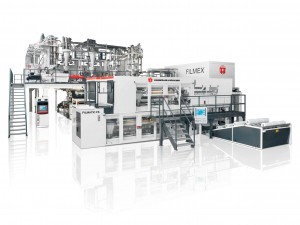 E-24
E-24 is the project name for a unique new film extrusion concept that will be introduced, along with its real name, on the floor of the K 2013. E-24 runs at extraordinary speeds without sacrificing quality; downtimes are brief and changeovers quick. With its excellent energy efficiency and minimal waste, E-24 proves that sustainability and operating efficiency aren't mutually exclusive.
OPTIMEX
The OPTIMEX 3-layer blown film line offers what is likely the best cost-benefit ratio for many applications. The line is equipped with the ideal high performance modules, newest automation technology and optimal melt paths to allow high output for profitable production.
FILMEX
The FILMEX cast film line will be producing stretch films for pallet load stability. These films are characterized by their strong holding force, as well as their high puncture and tear resistance. The line is rounded off with the new FILMATIC PS stretch film winder, that guarantees perfect rolls, even for difficult-to-wind films.
AQUAREX
An additional highlight is the AQUAREX blown film line with water quench cooling, that blows film downward. The AQUAREX will be running an asymmetrical barrier film. To run such demanding products at high outputs with minimal waste, the AQUAREX has outstanding technical features. All machine components are completely integrated and production is automated. Films produced on the AQUAREX are particularly well suited for thermoforming and pouch applications.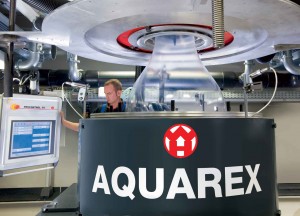 The mentioned machines are just a sampling of what you will be able to see at the W&H stand at K 2013 and at the EXPO in Lengerich. Additional lines, including blown and cast film, all flexo and gravure printing presses and the complete spectrum of W&H equipment from basic to the high-tech will be ready for demonstration. A shuttle bus between Düsseldorf and Lengerich is available.
W&H subsidiary, BSW (Bag Solutions Worldwide) will run demonstrations on the advanTex 2250 circular loom at their booth in Hall 17 of the K. An EXPO will also take place at the BSW plant in Prostejov, Czech Republic, where they will be showing their entire portfolio of machinery for the production and converting of PP woven fabrics for the flexible packaging industry.
Lengerich/Germany based Windmöller & Hölscher is an internationally leading manufacturer of flexible packaging machinery and equipment. The product line encompasses blown and cast film equipment, flexographic and gravure printing presses, machines for surface finishing and processing of paper, films, and woven plastic fabrics, as well as FFS (Form-Fill-Seal) packaging systems.
BSW (Bag Solutions Worldwide), a member of the W&H Group, is located in Vienna, Austria and provides a complete range of machinery for the production of flexible packaging made of PP woven fabrics.