US-based Eastman Chemical Company says household equipment manufacturer Groupe SEB from France has chosen its Tritan copolyester to produce the container of the new Multi-Delices yogurt maker.
"We made the right decision when choosing Eastman Tritan copolyester for this extension of our yogurt maker product line," said Patrick Charles, Project Manager, Groupe SEB. "We chose Tritan because it won't crack or become hazy in the dishwasher. By following the specifications provided by Eastman, the production process is especially straightforward. We've had excellent technical support from the company throughout the injection molding and verification processes."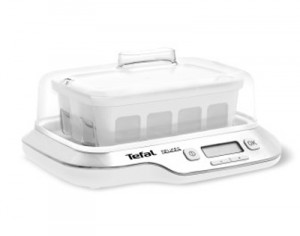 The 3-in-1 yogurt maker has a 1.5L capacity with 12 glass jars and lids and strainers for each, allowing consumers to make their own yogurts, fromages blancs and milk desserts. The yogurt maker also features preprogrammed menus displayed on the LCD screen.
Tritan is a new-generation copolyester that provides toughness, dishwasher durability and clarity, and is free of bisphenol A (BPA), says Eastman. The yogurt maker was previously made with polycarbonate (PC).
"Eastman Tritan copolyester has undergone extensive testing to demonstrate its resistance to day-to-day kitchen wear and tear and cleaning detergents," said J.P. Kuijpers, Global Sales Director and Europe, the Middle East and Africa (EMEA) Business Director, Specialty Plastics, Eastman. "The tests included multiple washing and drying cycles in commercial and domestic dishwashers. In these tests, Tritan showed continued resistance to hazing or stress cracking, and excellent retention of toughness and impact-resistance characteristics."
According to Eastman, since its Tritan copolyester launched in 2007, more than 600 food contact products have been made with the material. These products range from serving and storing items to reusable sports bottles, baby bottles and small appliances.
Source:  www.adsalecprj.com/Publicity/MarketNews/lang-eng/article-67007058/Article.aspx