At the forthcoming drinktec 2013, Henkel will present its casein-free adhesive Aquence XP 190 for the labeling of glass containers as well as the packaging hotmelt Technomelt Supra 100 Cool that exhibits the lowest application temperature on the global market.
Henkel's casein-free adhesive Acquence XP 190 provides the stability that prevents labels detaching from a bottle in iced water or when exposed to condensation. On the other hand, it can be readily removed when bottles are being cleaned, according to the company, with its performance matching those of casein-based adhesives.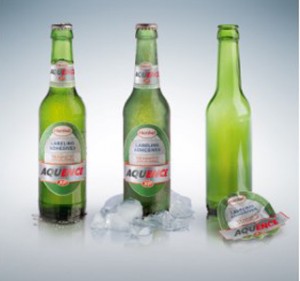 Moreover, Acquence XP 190 offers good initial tack with fast curing and drying. It also exhibits very good adhesion, which reduces adhesive consumption for manufacturers, says Henkel.
Since Aquence XP 190 is casein-free, its price is not subject to the kinds of seasonal fluctuations that affect adhesives manufactured on the basis of milk protein. According to the company, the casein price has been steadily rising for some time now, and has reached an all-time high in the last few months. And this trend is expected to continue as the demand from other sectors is also increasing while yield is dependent upon milk production.
Henkel will also present its hotmelt adhesive Technomelt Supra 100 Cool, suitable for the bonding of packaging such as six packs and larger beverage boxes. The bond strength of the hotmelt enables packages to reliably withstand high levels of wear and tear during transportation of even heavy bottles. And because of the cold flexibility of this adhesive once applied, the beverage boxes can also be stored in the refrigerator or a cool basement without becoming brittle.
Practical trials performed by consumer goods and beverage manufacturers have shown that, compared to conventional hotmelts, adhesive consumption can be reduced by 25 up to 40%, according to Henkel.
Furthermore, the low application temperature of Technomelt Supra 100 Cool reduces energy input by as much as 50%. Because of the shorter melting time, the packaging machinery can be started up more quickly, and the stress placed on machine components and applicators is substantially reduced.
drinktec 2013 will be held from September 16-20 in Munich, Germany.
Source: www.adsalecprj.com/Publicity/MarketNews/lang-eng/article-67007059/Article.aspx