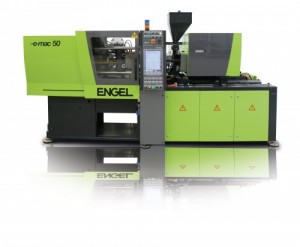 It's powerful, highly accurate, economical and compact – and the all-electric ENGEL e-mac injection moulding machine is poised to set new benchmarks in the production of technical parts and electronic components. Starting on 12th February and extending into the summer, the ENGEL e-mac will be touring Europe, spreading the word through innovative applications, specialist lectures and windows for personal expert dialogue.
Once again, ENGEL will truly live up to its motto by getting 'close to the customer' with a roadshow. From north to south and east to west, the tour will traverse the continent. The event gets under way in the French town of Wissous on 12th and 13th February; from there it will move on to Hungary, the Czech Republic, Poland and Germany as a start.
Using two applications as examples, the full potential of the machine series will be demonstrated live at ENGEL subsidiaries. Most impressively, connector housings will be produced from fibreglass-filled PBT/ASA using an ENGEL e-mac 310/100 with integrated ENGEL viper 6 linear robot. This will show how ultimate precision can be combined with maximum cost-effectiveness. Since the connector contacts are only inserted after injection moulding, competitiveness is determined by dimensional stability in this application.
Maximum output from a small footprint
From injecting and metering to mould and ejector movements, all drives in the ENGEL e-mac are servo-electric. This guarantees the best possible precision and process stability while maximising the effectiveness of the machine as a whole. The drives are operated by a modern axis system solution with stabilised intermediate circuit; braking energy is recovered and fed back into the grid, thereby achieving very high energy efficiency. The synchronous movements of the drive axes ensure fast cycle times. With acceleration of more than 20 m/s², the injection axis of the ENGEL e-mac is setting new standards around the world.
Full modularity and integration capacity
The series has four machine sizes with clamping force of 50, 75, 100 and 180 tons. Thanks to the established CC 200 control unit in ENGEL injection moulding machines, the ENGEL e-mac offers full modularity and automation technology integration. The highly compact design of the machine saves space in the production hall and cuts operating costs at the same time.
Source:http://www.engelglobal.com/engel_web/global/en/22_4417.htm