Tokyo, Japan, February 21 , 2014 — Teijin Limited announced today that Nissan Motor Company is using plastic glazing made with Teijin's Panlite® polycarbonate (PC) resin for the driver-passenger partition in its new NV200 taxicabs based on the NV200 compact cargo vehicle. Nissan has begun marketing the vehicle to taxi operators in New York City.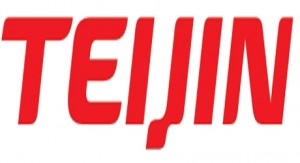 The plastic glazing, jointly developed with Nissan Shatai Co. Ltd., a Nissan group company that handles vehicle development, is achieved by molding Panlite® PC resin using the world's first three-dimensional thick-wall injection-press technology developed by Teijin. The glazing is then hard-coated with Teijin's three-dimensional double-sided flow-coating technology, also a world's first. The result is a smooth, distortion-free surface, which has not been achievable with conventional thick-wall PC molding.
In New York City, a vast majority of taxis are equipped with driver-passenger partitions for enhanced in-vehicle security. The partitions are generally made from acrylic resin, which is flammable and has low resistance to impact, making it unsatisfactory. PC resin has been used as a substitute, but it does not achieve a smooth surface in the thick-wall molding, resulting in impaired visibility through the partition.
To meet the growing demand for PC glazing in products such as Nissan's NY200 taxicab, Teijin will begin commercial production of PC glazing parts in Japan. Molding will be handled at the Mihara Plant in Hiroshima Prefecture and hard-coating at the Matsuyama Plant in Ehime Prefecture. Teijin aims to achieve PC glazing sales of JPY 10 billion (nearly USD 100 million) per annum by fiscal 2019.
In the effort to produce more environmentally friendly vehicles, the automotive industry is turning to lightweight plastics for vehicle windows and bodies. Teijin has developed various PC resin solutions for panoramic roofs, quarter windows and luggage door garnish trim, etc. Recently, the demand for larger plastic parts, such as rear doors and fenders, has been expanding. Plastic glazing is especially in demand due to its favorable combination of low weight and strong resistance to impact.
The automotive industry is a primary market in the Teijin Group's strategy for medium- to long-term growth. The group is accelerating the development of lightweight, low-carbon solutions for vehicles, as well as other products, by leveraging advanced technologies and materials.
About the Teijin Group
Teijin (TSE: 3401) is a technology-driven global group offering advanced solutions in the areas of sustainable transportation, information and electronics, safety and protection, environment and energy, and healthcare. Its main fields of operation are high-performance fibers such as aramid, carbon fibers & composites, healthcare, films, resin & plastic processing, polyester fibers, products converting and IT. The group has some 150 companies and around 17,000 employees spread out over 20 countries worldwide. It posted consolidated sales of JPY 745.7 billion (USD 7.4 billion) and total assets of JPY 762.4 billion (USD 7.6 billion) in the fiscal year ending March 31, 2013. Please visit www.teijin.com.