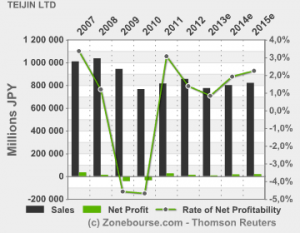 Tokyo, Japan, November 6, 2012 — Tokyo-based Teijin Chemicals Ltd., the core company of the Teijin Group's resin and plastic processing business, announced today that sales of Eleclear, the company's transparent conductive film for use in touchscreens, have more than doubled since last year, supported by growing demand not only for capacitive touchscreens in smartphones and tablets, but also resistive touchscreens, particularly those with high durability found in car navigation systems, portable gaming devices and OA equipment.
Teijin Chemicals, through further technological advancement and enhanced collaboration with processing partners, aims to expand the capacitive and resistive touchscreen markets for Eleclear to reach 10 billion yen (126 million USD) in sales by 2015. Eleclear is superior to glass in terms of thinness, lightness, break resistance and flexibility, making it ideal for touchscreens. It also offers enhanced durability thanks to Teijin Chemicals' unique processing technologies. Other value-added features include anti-Newton ring, a technology that improves visibility by suppressing the generation of iridescent bands (Newton rings) around the point of contact when a touchscreen is pressed; anti-glare, a treatment that prevents decreased visibility due to light reflecting on the surface of a display; flicker prevention; and fingerprint resistance.
Touchscreens generally are classified by the method used to detect touch position, either capacitive or resistive. Capacitive touchscreens offer excellent operability in terms of multi-touch capabilities and flick recognition, which has created significant demand for their use in smartphones and tablets. Last year, Teijin Chemicals developed a new transparent conductive film that greatly helps to maintain screen visibility by reducing the surface reflection of the conductive layer and making etching patterns invisible, which have been issues for conventional capacitive touchscreens.
Resistive touchscreens excel in durability and accuracy of touch-position detection, which is why they are used widely in devices such as car navigation systems, portable gaming devices, OA equipment, ATMs and ticket machines. Teijin Chemicals, which holds around 30% of the market share for transparent conductive films used in high-end resistive touchscreens, estimates the market for resistive touchscreens to grow by approximately 15% over the next five years, primarily driven by the increasing commercialization of high durability touchscreens.
About the Teijin Group
Teijin (TSE 3401) is a technology-driven global group offering advanced solutions in the areas of sustainable transportation, information and electronics, safety and protection, environment and energy, and healthcare. Its main fields of operation are high-performance fibers such as aramid, carbon fibers & composites, healthcare, films, resin & plastic processing, polyester fibers, products converting and IT. The group has some 150 companies and around 17,000 employees spread out over 20 countries worldwide. It posted consolidated sales of JPY 854.4 billion (USD 10.7 billion) and total assets of JPY 762.1 billion (USD 9.5billion) in the fiscal year ending March 31, 2012.