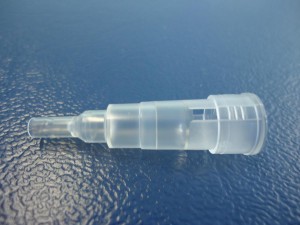 There's a growing German engineering influence on the Chinese medical plastics processing market. Haitian worked with former Demag CEO Helmar Franz to establish Zhafir Plastics Machinery GmbH, which designs and develops electric molding machines in a new plant in Ebermannsdorf, Germany. Machines for the Western market are made in Germany and machines for the Asian market are made in Ningbo, China.
Now Sumitomo (SHI) Demag Plastics Machinery GmbH, (Schwaig, Germany) and its Chinese subsidiary Demag Plastics Machinery (Ningbo, China) will be exhibiting a new machine making medical parts at Chinaplas (May 20-23; Guangzhou, China). On stand 4.1K41 in Hall 4.1, the company will show Systec C, a controlled, hydraulic all-purpose machine series.
Systec C replaced the Dragon series last year. Clamping force for the Chinese-made version will go up to 1200 kN with a fully hydraulic knuckle-joint closing system and from 1300-10,000 kN with a hydromechanical knuckle-joint closing system. Four sizes of injection unit are available for each clamping unit size.
At Chinaplas, a hydraulic Systec 120-430 C with 1,200 kN closing force will be producing components for an atomizer pump made from polypropylene. The 48-cavity hot runner mold from KEBO AG (Neuhausen,Switzerland) requires high precision and performance from the Systec C with its 10 second cycle time.
Efficient energy use is one of the design goals of the machine. A special servo pump drive from Yuken minimizes energy consumption, according to Sumitomo Demag. Improved insulation for the heating bands on the cylinder jacket reduces heat loss from the plasticization unit.
Source: http://www.plasticstoday.com/articles/sumitomo-demag-targets-chinese-medical-plastics-market0308201302