According to data from ChemOrbis Price Wizard, the spread between spot prices for ethylene and naphtha in Asia has risen to the largest level seen since November of 2014. Regional supply tightness has been pushing ethylene prices higher while naphtha has tracked crude oil prices downward over the past week.
As a result of these price movements, the premium carried by spot ethylene prices on a CFR NE Asia basis relative to spot naphtha costs has expanded from a 52-week low of slightly less than $400/ton in early April to currently stand at a level of $600/ton. The premium for ethylene over naphtha last breached the $600/ton threshold in November of 2014.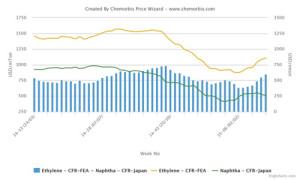 Players commented that spot ethylene prices continued to gain ground this week even as crude oil prices sank to a six year low owing to rising US oil production in spite of declining rig counts. Sources commented that spot ethylene buyers are showing more reluctance to place bids in the face of declining derivative margins while sellers are standing firm given supply constraints. When compared with the start of the month, spot ethylene prices are up around $115/ton to Northeast Asia and nearly $200/ton to Southeast Asia. Naphtha prices, meanwhile, have tracked crude lower and recently dropped below the $500/ton threshold on a CFR Japan basis. Compared with the start of the month, the spot naphtha market is down around $60/ton, according to ChemOrbis.
In production news, South Korea's LG Chemical is planning to conduct a month-long shutdown at its 900,000 tons/year cracker from mid-March to mid-April. In addition, Samsung Total is scheduled to shut down its 700,000 tons/year cracker for a 40-day maintenance in April. China's BASF-YPC is set to shut its 740,000 tons/year cracker for a two-month turnaround in April and May. In Japan, Idemitsu Kosan will conduct a two and a half month shutdown at its 374,000 tons/year cracker in Chiba between April and June while Mitsubishi Chemical will shut its 495,000 tons/year cracker for maintenance and expansion works in the second half of May.