According to ChemOrbis, spot styrene prices are seen tracking an upward trend both in Asia and Europe this week. Higher spot values were attributed to the recent gains in the energy markets while improved demand was also cited as another factor pushing up styrene, especially in Europe.
Crude oil futures on the NYMEX extended their gains at the beginning of this week after climbing 7.2% last week, the biggest weekly advance in almost four years. Brent crude futures also increased 9% last week, capping their biggest two-week gain in 17 years on February 6.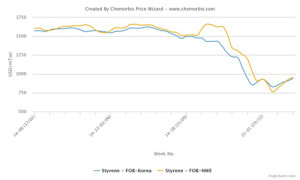 Spot styrene prices climbed by $50/ton both on an FOB South Korea and CFR China basis following a brief stabilization in the previous week. Despite the approaching Chinese New Year, the market received support from higher crude oil and benzene costs. Encouraged by firmer styrene costs, downstream PS sellers were seen maintaining their prices at the end of last week amidst limited trading activities ahead of the holidays.
In production news, Thailand's SCG-Dow Chemical is expected to shut their 300,000 tons/year styrene plant at Map Ta Phut for maintenance in the second half of February. LG Chem, Samsung Total and Idemitsu Kosan are among producers who are planning to conduct planned maintenance shutdowns in the March-April period. Almost 1 million tons/year of styrene capacity is expected to be taken offline which might lend support to the styrene market in the medium term.
In Europe, spot styrene prices gained ground for a second consecutive week following the styrene contracts which settled down €55/ton for February as per ChemOrbis. Spot prices were assessed $60/ton higher on the week. Market sources reported seeing improved demand as players think that the March contracts will not settle lower. In addition, these gains were also supported by firmer benzene prices which are up by over $50/ton week over week. Looking at the downstream PS market, prices are seen edging down for another month, but players are feeling that February is likely to be the last month for the current downward trend given the recent firming in the upstream markets.