With exhibit space sales and visitor registrations outpacing those at the same time in 2012, NPE 2015 is poised to become the biggest edition in history, revealed the show organizer, SPI: The Plastics Industry Trade Association.
For NPE 2015, SPI projects the number of exhibitors to match and possibly exceed the record of 2,009 set at NPE 2000, and attendance will reach 60,000, well above the total for the successful 2012 show.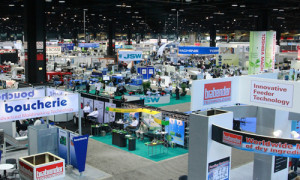 The amount of exhibit space taken thus far already exceeds the previous record set at NPE 2000 and is expected to total 98,480sqm.
A record 43% of all exhibitors will come to NPE 2015 directly from outside the US, a figure that does not include many companies based in other countries but exhibiting through their US subsidiaries.
These international exhibitors come from 37 countries and regions, including the largest contingent ever from China and substantial participation from Canada, Italy, Taiwan, Germany, India, Turkey, Switzerland, France, and South Korea.
As for attendance, SPI projects that international visitors will account for 28% of the total attendance, including a record number from Latin America – approximately 6,500 attendees.
"The great size and international makeup of NPE 2015 reflects the importance and value of plastics and plastics manufacturing in our world," said Gene Sanders, SPI Senior Vice President of Trade Shows and Conferences. "There will be more equipment on the show floor than at any previous NPE, more machinery in actual production, more opportunities to connect with designers and material suppliers, a more extensive conference program, and timely new exhibit features such as NPE3D, the Zero Waste Zone, IDSA's Design Center, and the Startup Garage."
More than 600 exhibiting companies will have machinery at their booths and over 400 will be operating equipment, according to SPI.
As for material suppliers, 13 companies will maintain large "customer service centers" occupying a total of 5,200sqm of space just off the exhibit floor.
NPE 2015 will be held from March 23-27 in Orlando, the US.
Website:  www.adsalecprj.com