Local PP prices in several Southeast Asian markets, including Thailand, Indonesia and Vietnam, hit multi year lows as of the past week. Prices, according to ChemOrbis Price Wizard, were at their lowest levels reported since 2009, when the index for Southeast Asia's local PP market was first launched.
In Vietnam, local PP prices witnessed further decreases during this past week with raffia offers losing VND800,000/ton ($36/ton). A converter operating in Hanoi said, "We only make purchases from the local market as we find the import trade risky. However, we are not rushing our purchases as we are refraining from working with high inventory levels."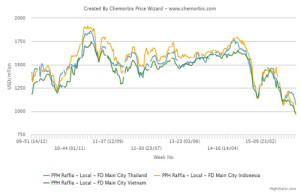 Another converter reported, "In 2015, the Vietnamese economy did not perform very well. Our end customers started to export less and therefore, they started to order less PP. We believe that prices are still likely to lose ground as PP demand is generally thin around this time of the year and is likely to remain so until the end of February. Considering this, despite having no liquidity related issues, we prefer to keep low stocks and purchase only on our urgent needs. Amidst weak demand, prices are swiftly losing ground and sellers are becoming more aggressive on their offers, even offering up to 30 days deferred payment terms."
In Indonesia, a trader operating in Jakarta noted, "PP demand is very slow since players prefer to be sidelined from the market with prices constantly falling. Plus, in December, trading activities are traditionally thin while converters aim to keep their stocks at a minimum before the year-end. In general, we are not anticipating any recovery soon given the approaching holidays at the end of the year."
In Thailand, general homo-PP raffia and injection offers lost THB2000-2500/ton ($55-70/ton) during this past week while, like in the rest of the region's markets, the approaching year end and weak demand played a role in these drops. Meanwhile, supplies are not reported to be problematic with buyers comfortably able to find materials as reported on www.ChemOrbis.com.
A Thai converter stated, "We managed to obtain very large decreases, up to three digits, on our homo-PP deals in the local market during this past week. However, we continue to make small purchases as we are not planning to build up stocks. Weaker crude oil prices coupled with thin demand is likely to put additional downward pressure on prices."