Following the implementation of the free trade agreement between South Korea and Turkey as of June 1, 2013, South Korea gradually raised its market share in Turkey's polymer market, according to ChemOrbis. As of 2014, South Korea managed to move up to be within the top 3 suppliers for PP copolymer, HDPE, LLDPE and PS. The customs duties for these four products were suspended immediately once the agreement became effective while duties for homo PP, LDPE and PVC have been gradually reduced.
In the PP market, South Korea became the number one supplier to Turkey for copolymers, surpassing the previous years' no 1 supplier, which was Saudi Arabia. The overall copolymer imports from South Korea were almost double that of its successor.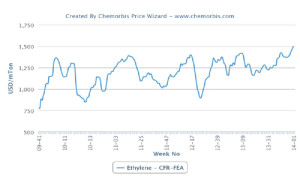 South Korea also moved up to be the 6th largest supplier of homo PP imports. However, it should be noted that much of South Korea's contribution to this category is for PP random copolymers, which were added to the homo polymer category following a change in the definition of the tariff by the customs department.
As for HDPE, South Korea overtook Iran and became Turkey's 2nd largest supplier in 2014. Saudi Arabia maintained its place as the top supplier of the country.
In the LLDPE market, Saudi Arabia managed to remain as the top supplier again, followed by Iran as the second largest supplier. South Korea was placed as the third largest supplier, even leaving Qatar behind in 2014.
The country managed to be the 3rd largest supplier of Turkey's PS market as well. Following Belgium and Egypt, the largest amount of imports were made from South Korea. Even though its market share is one third of Belgium's, it appears to have somewhat stolen the market share of Belgium and Thailand.
In LDPE and PVC, where South Korea is subject to 3.2% customs duty in 2015 following 4.3% in 2014, offers from the country are not considered attractive by Turkish players, according to ChemOrbis.