Duesseldorf-Germany, October 22nd 2013 – New dimensions Water pipes, conveyor belts from recycled plastic and flax fabrics from nanotechnology, won the top prizes Tuesday at the fifth edition of the prestigious SolVin Award, honouring innovative solutions in the PVC sector tough economic environment.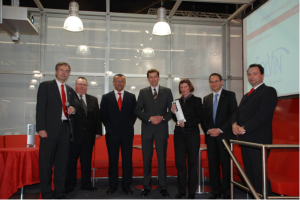 Leading the six awards at the ceremony, held during K2013, Spanish-based Molecor took the Gold prize for its larger PVC-O pipe measuring up to 630 mm in diameter. It opens a whole new market for corrosion free PVC pipes as it is 50% larger than previous versions. "The competitors and the winners of the SolVin Award show that the PVC industry is responding with innovative solutions to global megatrends, including the growing demand for water, energy and resource efficiency amid difficult economic times," said SolVin Managing Director Filipe Constant. "They also demonstrate how our industry is meeting those needs in a safe and sustainable way."
German-based Forbo Siegling took Silver for its AmpMiser® and BioBelts using renewable materials, and the French-based Depestele Group won Bronze for NanoVin® flax reinforcements using nanotechnology. Spain's Plasticos Escanero won the Recycling award for processing PVC industrial waste, and Italy's FIP won the Industrial Design award for their Easyfit PVC-U ball valves for water distribution. The Special Prize went to a team effort by BASF, Renolit and Sanquin that developed plastic materials for medical applications, including a blood bag for pediatric use.
The 78 projects in competition came from sectors ranging from construction to electronics, gardening to road safety, health care to autos and other manufacturing. The ceremony also included a panel discussion, a first for the SolVin Award, on innovation and sustainability. Panelists included Axel Bruder, Executive Director of R&D at Renolit; Brigitte Dero, General Manager of the European Council of Vinyl Manufacturers (ECVM) and Deputy General Manager of VinylPlus; Bernard Cora, European Laboratories Manager for Rohm&Haas; and Ignacio Muñoz, CEO of Molecor. Euronews talk show host Chris Burns moderated.
The SolVin Award jury included Andy Beevers, a British chemical engineer who manages digital magazines for the plastics industry. David Cook is Executive Ambassador for the NGO The Natural Step, working towards more sustainability. Kirsten Henson is a technical advisor for UNEP, the United Nations Environment Programme and lectures at Cambridge and Newcastle universities. Barbara Andreani manages the Brussels Enterprise Agency, "open innovation" between small companies and large organisations. Axel Enthoven runs Enthoven Associates Design Consultants, and teaches at the Academy of Industrial Design in Eindhoven (The Netherlands). He has won several prestigious prizes, including the Red Dot Award and the IF Design Award.