ALPHARETTA, Ga., November 12, 2013 – NovaTract Surgical Inc., Madison, Conn., has developed the NovaTract™ Dynamic Retractor, a unique disposable 5-mm laparoscopic rectractor that helps increase visualization and easy manipulation of organs for general, colorectal, gynecologic, urologic, and robotic-assisted minimally invasive surgery. The retractor's trigger is molded of Ixef® polyarylamide (PARA) resin from Solvay Specialty Polymers for high strength, rigidity, and biocompatibility.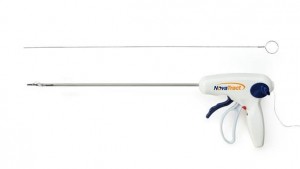 This patent-pending retraction system offers improved tissue manipulation with its exclusive tension adjusting system, which is coupled with the ability to easily modify the angle of retraction as needed. The retractor potentially reduces the number of ports used specifically for retraction in difficult cases. NovaTract's award-winning technology allows the surgeon to achieve reduced-port surgeries without changing surgical technique.
Ixef® PARA is used to injection mold the 5-inch (12.7-cm) long trigger mechanism, which must withstand a high spring load. The material's high strength and rigidity maximizes the stroke length of the device when firing the nitinol and stainless steel anchor. The tensile and flexural strength of Ixef® PARA compounds are comparable to many cast metals and alloys at ambient temperature. The material is also creep resistant, unlike competitive thermoplastics such as glass-filled polycarbonate which also exhibited flexing in the trigger mechanism prototypes.
"Ixef® PARA handles the rigors of this unique application thanks to its exceptional strength," said Bryan Carter, senior engineering manager for NovaTract Surgical, Inc. "This combined with its biocompatibility gave us assurance that we would meet applicable regulatory requirements."
The trigger mechanism, molded by Somerest Plastics, based in Middletown, Conn., is made of Ixef® GS-1022, a gamma-stabilized compound that combines high strength and stiffness with an ultra-smooth, high-gloss finish. The injection molded part withstands high-energy gamma radiation and ethylene oxide (EtO) sterilization procedures without significant change in appearance or degradation of mechanical properties.
NovaTract Surgical, Inc. launched the laparoscopic dynamic retractor in October. It will be sold nationally to hospitals throughout the U.S.Ixef® PARA resins demonstrate no evidence of cytotoxicity, sensitization, intracutaneous reactivity or acute systemic toxicity, based on biocompatibility testing as defined by ISO 10993:1.