Solvay Specialty Polymers has introduced the industry's first thermoformable polyphenylsulfone (PPSU) foam for insulative and structural components used in aircraft interiors. High performance PPSU foam is based on Solvay's Radel PPSU, a super-tough thermoplastic resin used for over 20 years in structural and decorative aircraft interior applications. Radel PPSU meets existing and emerging safety requirements for structural and decorative aircraft interior components and is compliant with FAA regulations requiring low flammability and heat release, low smoke generation, and low toxic gas emissions.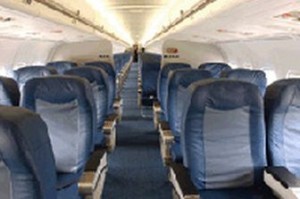 Radel PPSU foam is manufactured using a proprietary continuous extrusion process that creates lightweight closed cell foam with a tightly controlled cell size distribution. The process has the capability of producing densities ranging from less than 40kg/m3 to over 200kg/m3. Solvay's first commercial product, Radel R-1050, has a density of 50kg/m3.
Compared to traditional honeycomb products, Radel PPSU foam simplifies machining because it can be cut, bonded and formed with conventional equipment. No edge filling or surface smoothing of sandwich structures is required. Radel PPSU foam is significantly easier to form into 3D shapes. Unlike foams based on polyetherimide (PEI), polymethacrylimide (PMI), and polyethersulfone (PESU), shapes can have a deep draw and a 90° angle. Due to its thermoplastic nature, Radel PPSU foam is easily repaired and recycled.
The unique molecular structure of Radel PPSU foam prevents uncontrolled crack propagation upon impact, offering a distinct performance advantage over other polymeric foams. It also provides superior dimensional stability in flight, high thermal stability and acoustic insulative properties. The material's isotropic nature imparts its high performance properties in all directions.
Compared to PEI foam, Radel PPSU foam has better resistance to Skydrol aircraft hydraulic fluid as well as cleaning agents and pesticides used in cabin interiors. Unlike PMI foam, Radel PPSU foam exceeds the fire, smoke, and toxic gas requirements for use in commercial aircraft interior applications.Solvay is also targeting automotive, oil and gas, medical, sporting goods, and electronics applications where the continuous production process can potentially meet high-volume market needs.The material was exhibited at the Aircraft Interiors Expo (AIE) Americas exhibition from October 1-3 in Seattle, the US.
Source:  www.adsalecprj.com/Publicity/MarketNews/lang-eng/article-67008493/Article.aspx