SMART INNOVATION IN BLOW MOLDING TECHNOLOGY SMART CHOICE FOR BLOW MOLDING MACHINES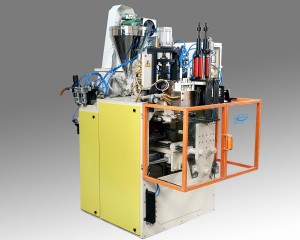 Mumbai, 20th November 2012 – Smart Machinery & Moulds Pvt. Ltd. announces launching of its smallest extrusion blow molding machine in the world. Maximum Utilization of Floor Space was the key force driving the need to develop compact extrusion blow molding machines. Customers can gain higher productivity from the same floor space available with them – smaller footprint, faster cycles result in higher output.
Smart Extrusion Blow Molding Machines have smallest floor space used in the industry and are custom built to be suitable for various applications. Products covered are used for the Packaging of Cosmetics, Pharmaceuticals, Medicals, Pesticides, Lubricants, Automotive and much more.
The smallest blow molding machine has capacity from 5ml to 2 liters which can even be operated from very small space. The fully automatic machine also helps to reduce manpower. Smart machines are Compact, Fast and Energy efficient as compared to the complex large size machines.
The Main Features of SMART Blow Molding Machines are as under:
Single or Double Station

Microprocessor Controls

Helical Gear Box

Larger Mould Area

Superior Mixing Screws

A.C. Drive

Fast Dry Cycle

Energy Efficient

User Friendly
Bring your product design and get a Smart solution
If you have your product concept/drawing or samples, let Smart help you reduce tooling costs without compromising quality. Our engineers have expertise in 2D/3D modeling, mold & tool design, molding experience, and fully supported by CAD/CAM technology, can work with you from your concept to a finished product. We will think over obstacles in advance, and develop solutions before we proceed to build your molds.
All mold tooling is crafted with the most current methods, and uses the highest quality materials for longer life and lower product cycle cost. Consequently, customers benefit from highly competitive pricing for top quality molds and challenge today's machine cycle times. Keep up-to-date by using Smart moulds.
About Smart Machinery
Smart Machineries and Moulds Pvt. Ltd. (SMMPL) is a team of young dynamic professionals with an exposure to Plastic Industry since 1991. Due to the increased demand from overseas customers, we have started our export firm since 2004. Looking into the potential growth in Atomization Plastic Industry SMMPL tied up with European Suppliers like Plastic Systems & Green Box for Dryers, Dehumidifiers, and Chillers in 2007.
In the course of further expansion, SMMPL has bought over Extrusion Blow Molding Machine manufacturer "MAZDA Mech Industries". Now SMMPL has its own Manufacturing Unit near Mumbai along with the Trading office in Mumbai.
Since inception, SMMPL has been striving to offer the best technology to the customers worldwide at a very competitive price – that is Value for Money and to become the most reliable partner for the customers worldwide with smart product line.