In a latest development in the field of plastics industry Germany based Gerresheimer AG is all set to open its own small-scale pilot production for its medical plastic systems group at its technical competence centre in Wackersdorf. According to sources the step was initiated viewing the growing demand of pharmaceutical products in the region. Asides, production of pharmaceutical related products require additional scrutiny and testing to develop the quality product.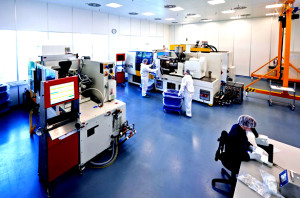 Since pharmaceutical and medical technology applications must undergo complex approval processes and sometimes small batches need to be developed for testing it was important to install a facility that would help the company produce quality products to meet the growing demand of the sector.
The newly installed facility will have 11 injection molding machines with clamping forces of between 65 metric tons and 420 metric tons, two of which are equipped for two-component injection molding with clamping forces of 120 metric tons and 200 metric tons respectively.
With this pilot production initiative company will be able to deliver laboratory prototypes, clinical test samples and small-scale production batches at any project stage right from the newly installed facility. This will ensure gathering of important intelligence about the developing product like identification of potential weak points at an early stage. All the knowledge and information gathered during the process can then be utilized for mould engineering and automation process directly to the construction of moulds and technical equipment for large-scale production.
It is important to underline here that Gerresheimer Group is a reputed name in the drug-delivery manufacturing field and has a track record of doing annual sales of 1.26 billion euros ($1.7 billion) in 2013. The company is dedicated to produce quality drug-delivery equipments with highest quality.
The company and all the stakeholders have welcomed the decision and are of the hope that it would help them meet the growing demand of drug-delivery equipments in the region.