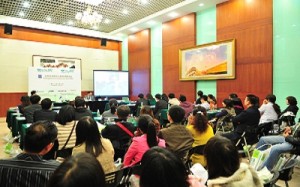 Due to increasing awareness of quality of life, rapid population growth and industrialization of developing countries, global demand for packaging machinery is projected to rise. The 20th edition of Sino-Pack /China Drink, which will be held from March 4-6, 2013 at China Import & Export Fair Complex, Pazhou Guangzhou, continues to be the largest packaging & beverage technology exhibition in China, the second-largest packaging country after the United States.
Together with the firstly- launched packaging products gala "Pack Inno", "Sino-Pack/ Pack Inno/ China Drink 2013" is expected to reach an unprecedentedscale of 40000 sqm exhibition area and over 500 renowned international enterprises will participate in the show. A spectrum of packaging machineries, packaging products (paper, plastics, metal, glass, textiles, etc), packaging materials, beverage packaging, packaging design will be showcased under one roof, which provides all–round packaging solutions for buyers, particularly of food, beverage, brewery, daily chemicals, cosmetics, pharmaceutical industries.
Premium exhibits will be allocated in different theme halls , includes 'Integrated Packaging Industry Hall', 'Beverage, Brewery Industry and Liquid Packaging Hall', 'Packaging Products and Materials Hall' and "International Hall".
Leading manufacturers of industrial robots: KUKA Robotics, FANUC, ABB; top three global coding providers: Markem – Imaje, Videojet, Domino; renowned exhibitors: BOSCH, Omori Changkong, Joyea, Shanghai Macwell , Beijing Macwell, Hualian, Shida, Zhong Cheng, Qingdao Song Ben, Ingram Micro, Yuan An, Schmalz, Fandor, Bosa, Andeli, Xu Tian, Rui Ji Jin Hong, EC-Pack, DaChuan, Bo Hui, Jing Rui, Full-More, Tian Ye, Yu Ke, Bo Cheng, High Dream, Tom Packaging, etc. will exhibit and provide the most updated technologies and innovative solutions to visitors.
Furthermore, the internationalization of the show are further enhanced by the presence of overseas pavilions, organized by Packaging Machinery Manufacturers Institute (PMMI) of the United States, Processing and Packaging Machinery Association (PPMA) of the United Kingdom, Chinese Taipei Packaging Association and  Korea Packaging Machinery Association (KPMA),etc.
Source..http://www.adsalecprj.com/Publicity/MarketNews/lang-eng/article-67002604/Article.aspx