Sepro Robotique from France has achieved the best every sales in its 40-year history, selling 1,650 robots and sprue pickers this year, which is 26% more than in 2012.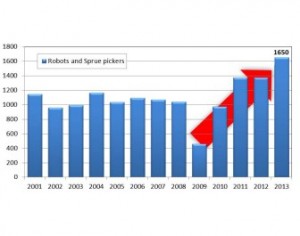 According to the French company, sales outside Europe have increased by almost half. North America has become Sepro's largest market with more than 20% of global sales, Latin America has jumped to 10% and Asia has doubled its share. At the same time, sales in Germany have held steady while most other European regions have seen significant increases.
In particular, its daughter company in the US, Sepro America, achieved an all-time record sales year, with orders outpacing 2012 by some 40% over 2012 and double 2011 sales. A large portion of this growth is said to come from the West Coast, where 2013 sales levels are three times what they were just a year ago, when Sepro stationed a new regional sales manager there.
The company added that it had a strong presence at K 2013, making contact with 65% more customers and prospects than it did in the previous show in 2010.
"Over the last five years we have invested heavily in the development of new robot technology, expanding our presence in key global markets, and building strong partnerships with automation specialists and injection-molding machine manufacturers," explains Jean-Michel Renaudeau, CEO of Sepro.
"Our product line is almost completely new in the last three years and now includes new three, five and six-axis robots as well as specialty robots for in-mold labeling, two-material molding and three-plate molds. No matter what their application, no matter where they are located, no matter what their operating parameters, Sepro has options that can meet their needs. That is what we call 'Your Free Choice in Robots' and we think that is why more and more companies are choosing Sepro robots every year." He emphasizes.
Source:http://www.adsalecprj.com/Publicity/MarketNews/lang-eng/article-67010200/Article.aspx