New High-Temperature Seals on Nordson Xaloy Slide Plate Screen Changers Have Performed Successfully with Many High Melt-Flow Polymers in 100,000 Hours of Production
HICKORY, NC. U.S.A., April 27, 2015: Nordson Corporation has developed a new sealing technology for its slide-plate screen changers, enabling them to provide reliable leak-proof melt filtration at higher temperatures and pressures and substantially lower viscosities, the company announced today.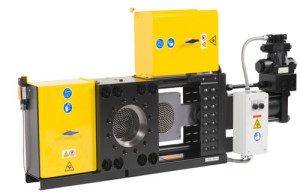 The seals on Nordson Xaloy slide plate screen changers prevent leakage by utilizing an innovative design that seals effectively at both low and high pressures, temperatures and viscosities. The new Nordson seal enables the slide plate screen changers to perform reliably at temperatures up to 650 °F (345 °C), pressures up to 7,500 psi (515 BAR ), and viscosities as low as 15 pascal seconds. (15,000 centipoise). This represents a significant improvement in performance with low-viscosity materials in comparison with earlier sealing systems (see graph) for slide plate filtration.
"The new sealing technology has exhibited leak-free operation in more than 2,000 hours of lab trials by Nordson and over 100,000 hours of service in dozens of production applications." said Kevin Tuttle, business development manager for melt stream products. "In these installations, Nordson Xaloy slide plate screen changers have been used successfully with dozens of grades of polyolefins, styrenics, and engineering polymers over a wide range of melt indices."
The new high-temperature sealing system is available on both manual and hydraulic slide plate screen changers, noted Parke Strong, R&D engineer, and it can be retrofitted on existing equipment.
Website:  www.nordson.com