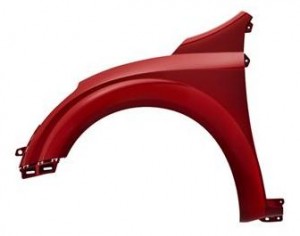 Indian automotive manufacturer Mahindra & Mahindra (M&M), in collaboration supplier Plastic Omnium, has developed the country's first injection molded plastic fenders, which are featured on the new XUV500 sports utility vehicle (SUV).
The new car features online paintable Noryl GTX thermoplastic resin from SABIC's Innovative Plastics, a substitute of steel in the fender. The chemicals supplier says it helps to improve the SUV's fuel economy, reduce emissions, expand design freedom, and enhance resistance against minor impact.
"Mahindra & Mahindra is India's premier utility vehicle company with a track record of launching groundbreaking SUVs, and they've done it again with the new XUV500 vehicle," said V. Umamaheswaran (UV), Director of Marketing, Automotive, Innovative Plastics. "We are honored to have played a key role in achieving significant weight-reduction targets in this impressive vehicle, and to help Mahindra & Mahindra move closer to its goal of developing the lightest SUV in the world. SABIC's complete offering, including technical support and a broad portfolio of material options, enabled the OEM and its Tier one supplier to meet this challenge."
According to SABIC, the plastic fender on XUV500 is 27% lighter than its steel-made predecessor, reducing the weight by 0.9kg. In day-to-day vehicle operation, Noryl GTX resin's enhanced resilience compared to steel allows the XUV500's fender to flex and absorb energy to regain its original shape, reducing repair costs. The design flexibility provided by Noryl GTX resin also eliminated the multiple steps, tools and operations that are required to manufacture steel fenders.
Noryl GTX resin's high flow performance ensures high quality, large-part molding, SABIC says further. Its ability to withstand the high temperatures of online painting allowed the fender to be integrated into the production process, while the material's inherent conductivity avoids the need for a conductive primer step.
Noryl GTX resin is a blend of polyamide (PA) and modified polyphenylene ether (MPPE) polymer technologies, which combines the dimensional stability, low water absorption, and outstanding heat resistance of MPPE with the chemical resistance and flow of PA.
SOURCE : http://www.adsalecprj.com/Publicity/MarketNews/lang-eng/article-126477/Article.aspx