Russia and the CIS (Commonwealth of Independent States) are expected to see a good number of PE capacities within the upcoming years, according to ChemOrbis. The earliest start up is slated for September of this year while the remaining capacities will continue to come online gradually until 2022.
Uz-Kor Gas Chemical is on track to start up a PE plant in Uzbekistan in September this year. The PE plant, with a capacity of 387,000 tons/year, is a part of the company's gas and chemical complex which will be able to produce 4.5 billion cubic meters of natural gas, 83,000 tons/year of PP, 102,000 tons/year of pyrolysis gasoline as well as other chemical products.
Meanwhile, Shurtan is mulling over doubling their PE capacity at their gas chemical complex in Uzbekistan by 2016. The company can currently produce 125,000 tons/year of PE.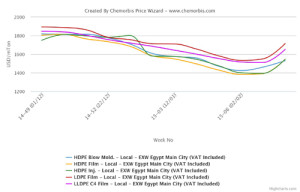 Gazprom is planning to start up a new PE plant at the Novy Urengoy gas and chemical complex with a one year delay in 2017. The plant will have a capacity to produce 400,000 tons/year of PE. Nizhnekamskneftekhim is also expected to commission a 600,000 tons/year PE pyrolysis unit in Russia by 2017.
Rosneft's new PE capacity at their Angarsk complex in Russia will come on stream in 2018. The plant will be able to produce 345,000 tons/year of PE. Meanwhile, the company decided to reduce the capacity of their Eastern Petrochemical PE project in Russia by 655,000 tons/year to 875,000 tons/year and brought forward the start-up date from 2028 to 2022.
SANORS has decided to raise the capacity of their planned PE project in Samara, Russia by 610,000 tons/year to 1.06 million tons/year and delayed the start up date by a year to 2019. ZapSibNeftekhim also increased the capacity of their PE project at their Tobolsk complex in Russia by 30,000 tons/year. The start-up date of the 1.53 million tons/year PE project was delayed to 2019.
Gazprom's affiliate Sibur will conduct a PE project at Belogorsky between 2019 and 2024 instead of the initially planned period of 2017-2028. The gas and chemical complex will be able to produce 2.4 million tons/year of PE. The company also shifted the start-up date of their Baltic gas-chemical complex in Russia to 2020 and raised the project's PE capacity by 50,000 tons/year to 1.55 million tons/year.
Lukoil reduced the planned PE capacity at their Caspian gas-chemical complex in Russia by 345,000 tons/year to 255,000 tons/year. The new capacity is scheduled to come online in 2022.
Kazakhstan Petrochemical Industry is expected to bring online 800,000 tons/year of PE capacity in Kazakhstan by 2019. Half of this capacity will produce LLDPE while the remaining capacity will be slated for HDPE production.
In Turkmenistan, a consortium of companies including South Korea's Hyundai Engineering and LG International and Japan's Toyo Engineering began construction of a new gas complex, worth $3.4 billion, on the Caspian shore. The whole project will be financed by LG International in accordance with an agreement signed between Korea and Turkmenistan which requires Turkmen companies to buy petrochemical products including HDPE and PP worth $7 billion from LG for the next 10 years.
Meanwhile, a few other PE projects in Russia have been cancelled. Gazprom Neftekhim Salavat has cancelled their 780,000 tons/year PE project, which would have come onstream in 2020. UPC also scrapped their planned new petrochemical complex in Bashkiria, Russia. The project would have had a PE capacity of 850,000 tons/year and would come online in 2018. Sayanskkhimplast also called off their planned Sayanskiy gas-chemical complex in Russia with Gazprom and Sibur, according to ChemOrbis.