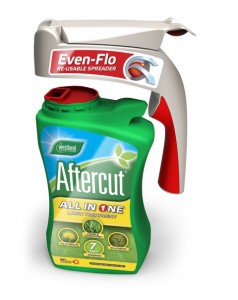 The manufacture of the innovative lightweight pack for Westland's new Aftercut Even-Flo lawn spreader, incorporating an inter-changeable handle with integrated spreading chute, is the result of close co-operation between two RPC Containers sites at Rushden and Market Rasen.
Westland's Aftercut Even-Flo spreader is the next generation of lawn spreaders, created to help gardeners revitalise, rejuvenate and bring more life to their lawns. To reflect this positioning, the company required a pack that is market leading in its functionality and design. Key criteria were to ensure the most even spread of granules during spreading, for the dispensing system to be reusable, and for the refill bottle to be as lightweight and cost-efficient as possible.
The new pack was designed by Webb deVlam. RPC Design subsequently worked with the consultancy and Westland to take the concept to the manufacturing stage. The eye-catching container features curved lines and a large labelling area for effective impact on-shelf. The interchangeable handle latches onto the container and then flips open for distribution of the granules; it can be easily transferred to refill packs and used with any of the four Aftercut lawncare products. The handle employs a dispersing ball device within the nozzle, which creates a perfect, even spread of granules across the lawn for the best results.
"This is a very innovative concept and as such provided one of our most challenging and complex projects in order to ensure that the final pack offered all the advanced features of the original design," comments RPC Design Manager Brian Lodge.
The container is blow moulded in HDPE by RPC Rushden. Advanced manufacturing techniques help to maintain the strength of the pack while minimising its overall weight to ensure ease of handling for the end consumer. Hi-tech injection moulding equipment at RPC Market Rasen produces the polypropylene dispensing handle, as well as transit caps and baffles for the refill packs.
"We have enjoyed a long-standing working partnership with RPC and the company has a good understanding of our business, which is critical in the successful development of new packs," comments Adam Long, Product Manager for Lawncare at Westland.
"As well as playing a critical role in taking this innovative design from concept to reality, this project required the various RPC sites and departments to work as a cross-functional team, particularly to meet our strict deadline for market launch. In achieving this, RPC's knowledge, expertise and management of the task really shone through."Westland's Aftercut is available in four versions – 3 Day Green, All in One, Lawn Thickener and Patch Fix. The launch is being supported with a £1m TV campaign.