Revenue for the Automobile Manufacturing industry in China is expected to total US$454.4 billion in 2013, increasing at an annualized rate of 17.0% over the past five years, says IBISWorld.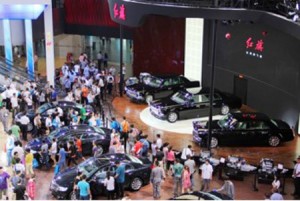 Thanks to the increasing household income levels in China, and as vehicle prices have remained competitive, more people have been able to purchase their own vehicles, particularly in China's large cities. In addition, a series of favorable government policies have spurred growth, including reduced purchase fees for new cars, subsidies for car buyers in rural areas and for car owners replacing old cars with new ones, explains the market research company.
As said, the top four industry participants (Shanghai Automotive, FAW, Dongfeng and ChangAn) account for a combined market share of 54.5% of industry revenue in 2013. In the passenger vehicle segment, the top ten participants include SAIC-GM-Wuling, Shanghai GM, Shanghai Volkswagen, and FAW Volkswagen. This represents a medium-to-high level of industry concentration, with no one firm totally dominating the industry.
IBISWorld believes there is still a large gap between China's automobile manufacturers and those in advanced countries. Scale economies of China's automotive industry will not be totally realized until the top players can achieve a higher concentration level.
Meanwhile, there are several small players in the industry that specialize in a small number of product lines to serve niche markets. However, it is expected that these participants will be unable to compete successfully against their larger rivals with foreign joint venture partners. In the next few years, a higher number of small players will be acquired and merged, or exit the industry, says IBISWorld.
Source:  www.adsalecprj.com/Publicity/MarketNews/lang-eng/article-67006773/Article.aspx